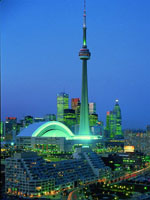 If there is a single aspect to the Toronto International Film Festival I enjoy most, it is the fact that the programmers have never lost sight of the event's original mandate: showcasing homegrown talent in this country.
Alongside the films that will no doubt be in the thick of this year's Oscar season, a number of wonderful Canadian films will also earn rave reviews, stun critics and the audiences that see them, and then quietly disappear, perhaps never to be released or heard from again. Such is the legacy of Canadian celluloid. And it is quite the maddening reality, since so many wonderful films are made here by directors other than Atom Egoyan, David Cronenberg and Deepa Mehta, which is not meant to be a slam on them.
Already announced are the Canadian films "Adoration" — the latest from Atom Egoyan, previously an Oscar nominee for "The Sweet Hereafter" — and "Passchendale," the opening night Gala film from director Paul Gross, which is shaping up to be the most aniticpated film of the festival thus far. Yesterday festival organizers announced a number of other titles thatw ill make their North American and world premieres in September during the ten days of TIFF.
"Fifty Dead Men Walking" is the new film from Kari Skogland, who last helmed the adaptation of "The Stone Angel," a premiere last year. Jim Sturgess of "Across the Universe" portrays a young man sent to infiltrate and spy on the IRA from within its ranks. Sir Ben Kingsley co-stars with Sturgess.
Former "Dawson's Creek" star Joshua Jackson will be seen in "One Week," a new film from director Michael McGowan about a young man who impulsivlely buys a motorcycle and escapes his mundane life to become utterly reckless.
Deepa Mehta, Oscar-nominated in 2005 for her seminal film "Water," is back at the festival this year with "Heaven on Earth," a study of a woman who travels from India to Canada and is hit with culture shock. Bollywood star Preity Zinta stars.
Renegade director Bruce McDonald, here last year with Ellen Page and "The Tracey Fragments," is back with his new zombie thriller "Pontypool" and we also have Canada's first stop-motion animated feature "Edison and Leo," which seems to have Oscar written all over it.
From Quebec we will have "Lost Song," a new film from the fine director Rodrigue Jean about a couiple dealing with the depression of the wife after a move to a summer cottage, and "Maman est chez le coiffeus" from Lea Pool, which explores a separation as seen through the eyes of a 12-year-old child.
I keep looking for some major anouncements to come but as always the programmers save those for last. Keep reading for reactions to the announcements each Wednesday.