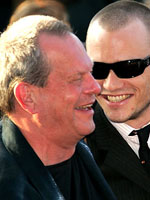 To say nothing of the fact that he has proven to be painfully irrelevant for over a decade, director Terry Gilliam has crossed the line with his recents comments chastizing Warner Bros. for what he feels is "tasteless" capitalization on the death of Heath Ledger.
From Yahoo! News (via WENN and The Movie Blog):
…the moviemaker fears that the producers of Ledger's second to last picture, The Dark Knight, are shamelessly capitalising on rumours that the late star will be awarded a posthumous Oscar for his role as evil villain The Joker.

He says, "That's what Warner Brothers are saying, but they'll do anything to publicise their film. That's just what they do and you can't get upset because it's bulls**t.

"They're like a great white shark which devours whatever it can."
"Bullshit" doesn't begin to say it, Mr. Gilliam.  Any time I hear someone go on about how the studio has disrespectfully gone out of its way to plaster Ledger's image on the promotional materials for "The Dark Knight," I immediately controlled the urge to wrap my fingers around a roll of quarters and smash a number of teeth entering the double digits out of their skull.
What would you have them do?  The Joker was always going to be a focal point of marketing.  This is the "it" role of the film.  It is the character any marketing whiz would be a fool to ignore or even modestly exploit in the build-up to a release such as this.  And because poor Terry Gilliam has so many years of trouble with studios digging into his side, he goes and joins the chorus of ignorance with comments such as this.
Give me a fucking break.