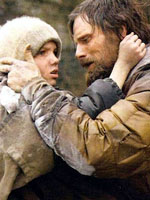 This weekend I opened Cormac McCarthy's Pulitzer-Prize winning novel "The Road." For whatever reason –- fright perhaps -– I'd hadn't read it before now despite accolades from critics and friends.
In June, Guy Lodge wrote a thoughtful entry about Dennis Lehane and how his books have easily transitioned to the screen. He likened him to Jane Austen. Mr. Lodge accurately noted that "it seems the studios are snapping up his titles faster than he can write them."
And for good reason. "Mystic River" and "Gone Baby Gone" were exceptional (and successful) adaptations. "Shutter Island," which will open in 2009 as "Ashcliff," attracted the eye of Martin Scorsese along with an exceptional cast featuring Leonardo DiCaprio, Mark Ruffalo, Ben Kingsley, Emily Mortimer, Michelle Williams, Max Von Sydow, Jackie Earle Haley and Patricia Clarkson, to name a few. But I wonder if similar consideration might be given to Mr. McCarthy.
John Hillcoat's adaptation of "The Road" will hit theaters this November — just after thanksgiving. Unlike "No Country for Old Men," the Coen brothers' Academy Award-winning adaptation of the Cormac McCarthy novel, this film enters the market with far less fanfare. To date, it hasn't screened for audiences or critics. It didn't show at Cannes or Tribeca and, as of this writing, hasn't been announced as part of the Toronto International Film Festival line-up.
The film stars Viggo Mortensen, fresh off an Oscar nomination for "Eastern Promises," David Cronenberg's moody and dark film about the Russian mafia in London. Mortensen seems to have this genre down. While he was thrilling in Cronenberg's haunting drama "A History of Violence," the actor arguably made his name as Aragorn in those miserable elf movies from Peter Jackson. Five pages into the novel, his casting made perfect sense.
In 2005, Hillcoat directed "The Proposition," a brilliant western starring Guy Pearce and Ray Winstone. I found it to be one of the year's best.
"The Road" also stars Oscar winners Charlize Theron and Robert Duvall as well as Mr. Pearce and newcomer Kodi Smit-McPhee, an 11-year-old boy who might just steal the film. Charles McGrath, writing in The New York Times earlier this year, noted that screenwriter Joe Penhall is "for the most part extremely faithful" to the story.
The Oscar season is crowded with adaptations of books and plays. "Revolutionary Road," "The Reader," "Doubt," "Frost/Nixon," "The Curious Case of Benjamin Button," "House of Lies," "Defiance" and "Miracle at St. Anna" are just a few. But if there's such a thing as McCarthy fatigue, audiences may have it this year. Where "No Country for Old Men was violent and scary to a disturbing degree, "The Road" is – -210 pages in -– chilling and lonely. They are both beautiful works of literature, but how much stomach will the Academy have for another bleak story, particularly one set in a post-apocalyptic world?
The critical success of "No Country for Old Men" may also work against Mr. Hillcoat. The Coens set the bar high — much higher than Billy Bob Thornton and Ted Talley when they adapted "All the Pretty Horses" in 2000. But I'm hoping that isn't the case.
Then again, if "The Road" isn't enough to satisfy McCarthy fans and film lovers alike, in 2009 Ridley Scott will direct "Blood Meridian," an adaptation of another one of his novels, with a script penned by William Monahan.