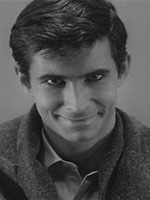 Alright, this was painstaking indeed. After The Times of London saw fit to rock out a list of the 20 best movie endings of all time last week, I thought I'd try my own hand at such a collective.
There are some omissions that might surprise some folks ("Bonnie and Clyde," "The Graduate," "Carrie"). At the same time, there are films that, on any other day, would easily slip into the list ("A Clockwork Orange," "Once Upon a Time in the West," "Reservoir Dogs").
Rest assured they were taken into account, but they didn't speak to me on whatever levels must have been necessary to push into the top 20. But I can say these are the denouements that most affected me, be it viscerally or emotionally.
Send in your picks for the top five movie endings of all time and I'll publish a collective readers' list in a few weeks. Email me or post your list below in the comments section.
Here's what I came up with:
20. "The Iron Giant" (Brad Bird, 1999)
"You stay. I go. No following."
Animation genius Brad Bird made his feature directorial debut with this effort, packing an emotional punch by film's end with shades of "E.T.: The Extra-Terrestrial" — and an energizing final shot to boot.
19."Jacob's Ladder" (Adrian Lyne, 1990)
"He looks kind of peaceful, the guy."
Capping off one of the most bizarre cinematic visions ever captured (and, ultimately, quite underrated as well), this closing scene is a twist that has been lifted in various other forms ever since. (see next)
18. "The Sixth Sense" (M. Night Shyamalan, 1999)
"I think I'm okay, really. I think it just went in and out."
Hot prospect M. Night Shyamalan tainted the original power of the twist ending by attempting to make a career of it, but in the final moments of this early effort, his buried talent poked through the surface.
17. "The Shawshank Redemption" (Frank Darabont, 1994)
"Get busy livin' or get busy dyin'. That's God damn right."
Less a closing scene than a closing sequence, the entire third act of Frank Darabont's Stephen King adaptation manhandles the heartstrings and lifts the spirit.
16. "Se7en" (David Fincher, 1995)
"John Doe has the upper hand."
Andrew Kevin Walker crafted a near masterpiece that culminates as perfectly as it could have, death and despair, ambition and art, plus a Hemingway rebuttal for the ages.
15. "The Conversation" (Francis Ford Coppola, 1973)
"We'll be listening to you."
The calmly paranoid conclusion to a mind-bender from a mid-"Godfather" Francis Coppola, this finale put Gene Hackman in a position to give perhaps the greatest performance of his career.
The full list after the jump!
14. "Night of the Living Dead" (George A. Romero, 1968)
"Good shot. Okay, he's dead, let's go get him. That's another one for the fire."
George Romero let a dash of social commentary slide into his original zombie classic when he did away with poor Ben (Duane Jones), safe after locking himself in the basement overnight only to be mistaken for a zombie by early morning hunters.
13. "Unforgiven" (Clint Eastwood, 1992)
"Well he shoulda armed himself, he's gonna decorate his saloon with my friend."
Director Clint Eastwood locked David Peoples screenplay "The William Muny Murders" away for a decade until he was old enough to portray the grizzled protagonist who obliterates a town with swift vengeance by film's end.
12. "The Godfather" (Francis Ford Coppola, 1972)
"Don't ask me about my business, Kay."
Al Pacino offered perhaps his greatest portrayal to date in this Francis Coppola masterpiece, capping off the star-making turn with a chilling announcement of his moral disintegration and seizure of the family business.
11. "Memento" (Christopher Nolan, 2001)
"I have to believe in a world outside my own mind."
Despite offering a narrative that begins where it ends, filmmaker Christopher Nolan kept us on the edge of our seat awaiting his tapestry's inevitable conclusion, leaving our heads spinning as the wheels of a Jaguar come to a screeching halt.
10. "Heat" (Michael Mann, 1995)
"I told you I'm never goin' back."
Bringing two of the cinema's greatest icons together on screen for the first time ever, director Michael Mann took the symbiosis of hunter and prey to a new, tear-jerking level on the runways of LAX as the sounds of Moby drone on.
9. "There Will Be Blood" (Paul Thomas Anderson, 2007)
"I am the third revelation! I am who the Lord has chosen!"
In one of the most memorable scenes of the new millennium, actor Daniel Day-Lewis flew off the rails, losing as many viewers as he thrilled with this final act of desecration, ridding the world of his ails.
8. "The Departed" (Martin Scorsese, 2006)
"Okay…"
Beginning with a bloody construction site shoot-out and culminating with a delicious slice of revenge, Martin Scorsese's return to form never lets up throughout, even when he shockingly (and suddenly) does away with the film's hero amid all the carnage.
7. "Planet of the Apes" (Franklin J. Schaffner, 1968)
"You maniacs! You blew it up! Damn you! God damn you all to hell!"
One of the more striking denouements in film history (and, therefore, one of the more infamous screen moments), actor Charlton Heston is met with the wicked, gut-wrenching truth behind this "far away" land.
6. "Gattaca" (Andrew Niccol, 1997)
"Maybe I'm not leaving. Maybe I'm going home."
One of a few cinematic moments that can still reduce the writer to tears, writer/director Andrew Niccol wraps up his brilliant vision of the not-so-distant future with emotion and gusto as the gorgeous themes of Mychael Nyman swell.
5. "City Lights" (Charlie Chaplin, 1931)
"Yes, I can see now."
In what might be Charlie Chaplin's greatest masterpiece, the groundbreaking filmmaker lights up hearts to this day with the final exchange between his smitten Tramp and Virginia Cherrill's Blind Girl.
4. "Dr. Strangelove" (Stanley Kubrick, 1964)
"Mein fuhrer! I can walk!"
Capping off an hour and a half of sheer comedic perfection (featuring at least three spotless performances), director Stanely Kubrick (always having a way with endings) takes us out with a hell of a punchline and the vocals of Vera Lynn.
3. "Citizen Kane" (Orson Welles, 1941)
"I don't think any word can explain a man's life."
Quickly becoming the most classic ending in movie history, Orson Welles's final touch on his shadow study of newspaper tycoon William Randolph Hearst manages to put all the perspective in the world to the film's complex subject.
2. "Psycho" (Alfred Hitchcock, 1960)
"They'll see. They'll see and they'll know. And they'll say, 'Why she wouldn't even harm a fly.'"
This (shamefully) Oscar-ignored horror staple probably introduced the twist ending to a generation of filmmakers unaware of its visual storytelling power, capping off one hell of a performance from a 27-year-old Anthony Perkins.
1. "The Usual Suspects" (Bryan Singer, 1995)
"After that, my guess is you'll never hear from him again."
No other movie ending has ever taken the writer out of his seat like the final, head-spinning moments of this hard-boiled genre entry from Christopher McQuarrie and Bryan Singer. Every piece of an elaborately designed, deliciously manipulated puzzle falls into place as the camera ultimately settles on the image of a crippled leg settling back into perfect stride. John Ottman's melodic string score lulls the viewer into the reality of the film's conclusion as Kevin Spacey wraps up his Oscar-winning performance. And just like that…he's gone.
The greatest movie ending of all time:
httpv://youtube.com/watch?v=5xXH6DQNjCY
Send in your picks!