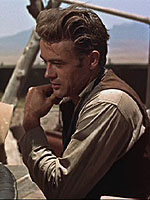 Let me state that I am aware of how much trouble I am going get myself into by writing this.
With all the praise for Heath Ledger and his apparently electrifying performance in "The Dark Knight," comparisons have been drawn to 50s method actor James Dean.  Great at his trade, a troubled social life, an early death, what might have been, etc.
Ledger was a great actor, he should have won the Academy Award for his stunning performance in "Brokeback Mountain" and no doubt will be nominated for his turn as the Joker.  But Ledger's body of work, though small, was superb and demonstrated a range that vastly surpasses that of James Dean, who was frankly similar in every role.
The first time I saw James Dean on screen I too was stunned by performer, but for reasons you might not expect. Having heard so much about him, having read everything I could get my hands on, the film "East of Eden" was playing on the late show one night in the days before home video. I set my alarm and went to the cinema, and over two hours later I went back to bed wondering what all the fuss about.
Later of course I watched "Rebel Without a Cause" and "Giant," and still to this day I cannot understand those who believe Dean was one of the greatest American actors, so much so that he was elevated to the status of an icon.
Did he have a presence? Indeed, but so does Keanu Reeves and I hear no one hailing him as the greatest actor of his generation. Part of Dean's presence came from understanding instinctively how to draw attention to himself in the frame. Movement, plain and simple is the trick.
Watch "Giant" and watch carefully the scenes he has with Rock Hudson (who was furious at what he did) while they are letting him know he has inherited some land. He sits, twirling a small lasso, adjusting himself in the chair, moving, moving, moving, knowing that the audience will be drawn to him by the motion. He was famous for this as far back as the Actor's Studio, sucking the energy out of the scene and the other actors but giving nothing back.
Those who worked with him — Raymond Massey, Jim Backus, Rock Hudson — all respected his reputation, but thought little of his ways because they knew what he was doing. They understood he was working for himself, not part of the ensemble, doing little more than artistic masturbation…whatever worked for him.
Dean, I believe, fell into the trap of believing his own press, believing everything being written about him and then having the burden of acting that out in real life. Indeed he was troubled, there is little doubt of that, and he tried to bring that turmoil and rage to the screen, sometimes succeeding, more often, not. His obsession with the great Marlon Brando often led him to imitate the actor on screen, leaving Brando to give the kid some advice: "get some therapy."
Would he have grown as an actor? Perhaps. Paul Newman did, becoming better and better before our eyes, and it is possible Dean might have the done same. My problem is that Newman arrived without the baggage and press of Dean, and was permitted to grow. Dean already believed he was a "great actor" because everyone was telling him so.  Butould he have been unselfish?  In none of the countless books I have read can I find much to tell me he was nothing more than a self-absorbed young man.
George Stevens understood how to use Dean best. Keep him in a supporting role, always in the background. Dean was superb as the young Jett Rink because he was portraying an element of himself, a young man who just wanted to be loved and accepted. However, he falters badly as the older Rink, giving a performance any high school drama student could have given…seriously.
More than 50 years after his death on a lonely road, September 30, 1955, he remains an icon — like Che Guevara, a famous image on a T-shirt. And of course, the fascination the actor remains.  But I wonder if that has more to do with what might have been rather than what was.