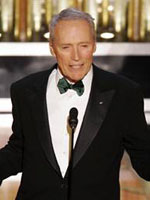 Had anyone said to me in the 1970s that Clint Eastwood would in time become one of the finest and most important American directors in modern cinema, I would have laughed — quite loudly — in their collective faces.
The star of "Dirty Harry" and "Every Which But Loose?"  The guy who shares the screen with apes?  Are you kidding???  Yet here we are, 37 years after he first pulled that 44-Magnum ("The most powerful hand gun in the world"), and things have changed.  He has won four Academy Awards — two as director, two as producer.  He has been nominated for each on two other occasions and has two Best Actor nominations to his credit as well. He has twice been honored by the Directors Guild of America for and won countless critics awards.
Eastwood is indeed among the filmmaking elite.  And with the upcoming releases of "Changeling" and "Gran Torino," he looks primed to flirt with the film awards season yet again.
While researching my book "Clint Eastwood: Evolution of a Filmmaker," my respect and admiration for the man has grown considerably. Obviously there was a great deal of admiration to start, otherwise I wouldn't even begin a bhook on the subject.  But leanring more and more about Eastwood and his work has, understandably, taken things up a level.
Eastwood challenges himself each time he makes a film.  His choices to act in films such as "Any Which Way You Can" were driven by the fact that he knew the studio would then finance a personal project such as "Bronco Billy."  What really astounds me, though, is his growth as an actor through the years.
It seems inconceivable to me that a mere financial draw from the 1970s is the same actor who explored the depths of hell in "Unforgiven" and again in "Million Dollar Baby," weeping with despair at true love lost in "The Bridges of Madison County" and attempting to portray no less than John Huston in "White Hunter, Black Heart."
He is as a fearless performer, yet he is always acutely aware of what works and what doesn't. This is not an actor prepared to do Shakespeare because he knows he can't pull it off. But my God, what he can do is magical.
As a director he possess the same sort of lean storytelling skills as John Huston, exploring the raw and visceral side of life, turning pain into art. Right now in American movies, at this moment, is there anyone better at that than Eastwood?
Is there?