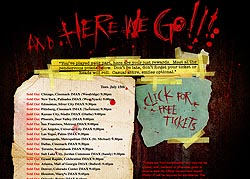 I stumbled onto this today at /film, but it turns out the "Dark Knight" viral marketing campaign, thoroughly concocted and carried out by 42 Entertainment, has paid off in spades for Bat-fans who stuck it out.
A wave of Tuesday noght screenings across the country was announced on the WhySoSerious.com viral site, and each of them: free.  So if you've been huffing it about your metropolitan area participating in those crazy scavenger huts and paying close attention to every nuance the viral sites have put out there, now's your chance to step up and get your cookie.
Personally, the viral stuff wore out on me long ago.  It became something of a burden to even feel informed at one point, and the overall depth kind of left me for wanting.  But maybe I'm getting old.  All of that said, I'm actually very happy to see the end result pay off for loads of committed fans who clearly have a passion for this character and this franchise.  It's a special symbiosis.
And in a strange sort of way, the whole episode rings as a nice au revoir to Heath Ledger.  The Joker has been "behind" all of the viral shenanigans, after all.  So congrats to all the fans who stuck it through.  Enjoy the early show (and come on — when you're just a fan and not stuck in the cynical world of film criticism and journalism — an early screening is pretty much the greatest thing on earth).