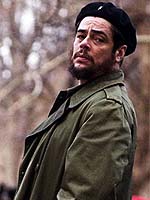 British film magazine Sight & Sound has a nice new tradition of interviewing the jury president of the most recent Cannes Film Festival, which makes for interesting reading. (Last year's prez, Stephen Frears, presciently predicted in his interview that "No Country for Old Men" would "do really well," despite not winning anything at the festival.)
Unsurprisingly, 2008 president Sean Penn is rather more candid in his interview with  Richard T. Kelly. After admitting that he had four clear favourites in the competition (two of which, "The Class" and "Che," were unanimously awarded their respective Palme d'Or and Best Actor prizes), he then launches into an impassioned defence of Steven Soderbergh's polarising opus, as well as an attack on the journalists who dismissed it:
Right through the festival I had no awareness of what the 'buzz' was, and I shut people down if they tried to talk about movies in front of me. But when I did a little bit of catch-up browsing afterward I read some of the stupidest, ugliest, most cynical responses to what had gone on, and I had the front-seat to be aware of their inconsistencies.

"Che" is a great example. I pray it finds distribution in the four-hour-plus form I saw, because otherwise people will be missing out.  The film-making is stellar: there are so many details in the execution of that huge story. Every sentiment about Guevara I've heard passionately expressed when I've travelled in Cuba and South America was not only dramatised, but without exposition, seamlessly, fulfilling the narrative. Then you have one of the first tour de force performances in film history that doesn't rely on the close-up.

This is a film, I later find, that had some negative responses…I was in a jury room of nine people with more expertise in their big toenails than any of the people writing in these papers: nine out of nine wanted to go out and change the world afterwards.
Of course it's no real surprise that Penn, of all people, should love the film. Even so, those are strong words, and you have to reckon that, when the film eventually sees the light of day in the US, a certain sector of the Academy will feel the same way, particularly with regard to Benicio del Toro's performance.
Elsewhere in the interview, Penn further discusses the calibre of the Best Actor contest, possibly offering a hint of what his other two favourites may have been:
I know some jurors had disappointments (in the voting); it's inevitable. I loved Joaquin Phoenix in "Two Lovers." Even though there was controversy about "Synecdoche, New York" I think everyone agreed that Philip Seymour Hoffman continues to be one of the great actors around. There's no such thing as 'Better than true,' and you get a lot of true performances. But context matters, you can't help it. There was something about the timing of Benicio del Toro playing Che that was undeniable.
Many more eloquent insights in the interview – it's not available online yet, but is in the August issue of Sight & Sound.