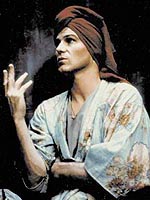 I'm not too privy to the behind-the-scenes drama of Hector Babenco's "Kiss of the Spider Woman."  I haven't even seen the film in close to a decade and it's one of those that slips my memory more often than not, maybe because it hasn't been available in any home medium for so long, but likely because I didn't respond to the material originally.
I couldn't deny William Hurt's affecting (and Oscar-winning) performance, however.  Ditto Raul Julia's concentrated work.  Regardless, I've been meaning to give it another look ever since.
Anyway, I was reading through Lou Lumenick's recounting of the film's rocky road to the screen (as detailed in the documentary "Tangled Web: Making 'Kiss of the Spider Woman'"), and my head was spinning.  I never knew there was such turmoil going on off-camera.  But nothing could have prepared me for this bit:
[Leonard] Schrader's screenplay originally attracted the attention of Burt Lancaster, who wanted to play Luis, and consequently of the major Hollywood studios. But Lancaster left the project after Weisman refused to use a different script written by Lancaster himself — who had done his own costume test in drag.

[Producer David] Weisman went with Hurt, then an up and coming leading man. Hurt clashed repeatedly with director [Hector] Babenco, who thought he was going to be working with the British actor John Hurt.
W…T…F?  And there's more.  I encourage you to give it a read if you weren't already aware of all of this (something tells me I should have been).
"Kiss of the Spider Woman" is finally getting a DVD release this month, by the way.  It hits the market as a two-disc collector's edition and on Blu-ray (both of them apparently Amazon exclusives) on July 22.