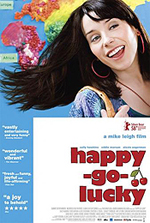 The press office of the Toronto International Film Festival (TIFF for future purposes) announced some new titles for the line up at this year's festival yesterday.
Two Gala Presentation announcements include "The Secret Life of Bees" with Dakota Fanning, Paul Bettany, Jennifer Hudson and Queen Latifah, and "The Duchess" featuring Keira Knightley in the biographical role of a woman who brought sweeping political change to England with her progressive attitudes.
In the Special Presentations Program we have "Every Little Step," looking to be a fascinating documentary about the making of the Broadway sensation "A Chorus Line," which dominated American Theatre in the late 1970s and early 1980s. It was royally screwed up as a film by the vastly over-appreciated Sir Richard Attenborough.
From the great Wong Kar-Gai comes "Ashes of Time Redux,"  while Mike Leigh brings to us the highly anticiapted "Happy-Go-Lucky". Guy Ritchie will unveil "RocknRolla" to audiences here with Larry Charles bringing to our fair city his new picture "Religulous".
"Ghost Town" sounds promising, as the story follows a man portrayed by Ricky Gervais who dies unexpectedly and is revived with the powert to see ghosts. And as expected, "Waltz with Bashir" will make its North American premiere here at TIFF.