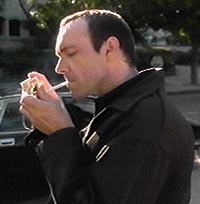 I was working on this piece yesterday (nothing major — just pulling together the YouTube clips), but I wasn't aware how the list was going to pan out.  "Carrie" at the top?  Not so sure about that.
But The Times critics like to be contrarian.  Just take a look at their Top 100 Films of All Time list, which places Paul Thomas Anderson's "There Will Be Blood" rather brazenly at #2.
Anyway, debating and sussing out the best of movie endings ever could have us chatting into the night.  Most of my favorites are recent examples, but that's probably due to what the 1990s did to the screenwriting form.
Scribes began giving a lot more thought to how the audience would feel when leaving the theater.  Twists and emotional-punches became a currency of sorts, which is probably why there are more films from the decade than any other on The Times' list.
I will say I'm glad there was room for "Seven," "Memento" (which I re-watched recently and absolutely adore) and "E.T.," three (perhaps) out-of-the-box choices that don't leap to mind when the subject comes up.  And it's impossible to argue against "The Usual Suspects," "Butch Cassidy and the Sundance Kid" and "Planet of the Apes."
If I were to suggest a some additions, I might begin with "Heat," "Citizen Kane," "A History of Violence," "Jacob's Ladder" and "Boogie Nights," to name a few.
The Times' list of the best movie endings of all time:
1. "Carrie"
2. "Butch Cassidy and the Sundance Kid"
3. "Casablanca"
4. "E.T.: The Extra-Terrestrial"
5. "Chinatown"
6. "Breakfast at Tiffany's"
7. "Some Like It Hot"
8. "The Italian Job" (1969)
9. "The Usual Suspects"
10. "The Sixth Sense"
11. "Thelma & Louise"
12. "The Wizard of Oz"
13. "Les Diaboliques"
14. "Dr. Stranglelove"
15. "Gone With the Wind"
16. "The Shawshank Redemption"
17. "Planet of the Apes"
18. "Memento"
19. "The Blair Witch Project"
20. "Seven"
I might pull together my own top ten soon enough.
What are your favorite movie endings?