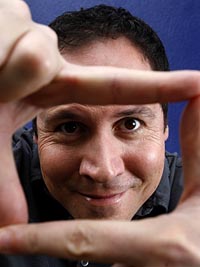 So according to Deadline Hollywood Daily, Jon Favreau is officially directing "Iron Man 2."
While I may not have been as gung-ho for "Iron Man" as most, I'm more than glad to see him come back. The first film, to me, felt like a good movie begging for a great sequel, and I think the same could be said of Favreau as a director. He's been improving from picture to picture and I think "Iron Man 2" could be the moment where he really comes into his own as a filmmaker.
With "Iron Man" currently the highest grossing film of the year (probably just for a few more days until "Crystal Skull" finally overtakes it) and Robert Downey Jr. undeniably becoming the A-lister we all knew he could (and should) be, it was simply ignorant of Marvel to think they could get away with anyone but Favreau in the director's chair.
I'm wondering when Marvel will start moving the pieces more definitively in place for the rest of the inevitable "Avengers" flick. Edgar Wright is the only confirmed director (for "Ant-Man," which he'll go into post-"Scott Pilgrim," and which I'd guess Marvel will want to throw into "The Avengers" just for gluttony's sake).  But for anything beyond "Iron Man 2," I think we'll be hearing announcements in the coming months, specifically at Comic-Con.
On a side note, it looks like "The Incredible Hulk" will narrowly sneak past "Hulk" at the box office some time this month. I'm guessing that's probably not good enough for another sequel