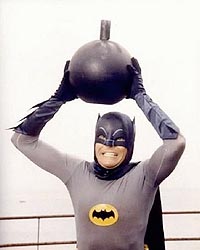 A couple of Bat-stories around the web this morning (both of which I first came across at Hollywood Elsewhere).
The first is this New York Times piece from Michael Cieply, about "Dark Knight" screenings rolling out as early as 6:00 a.m. in some cities due to the blast of ticket sales for showtimes around the clock.  Here's a look:
Movie theaters have sometimes opened their doors at odd hours for their most highly anticipated films, say, an entry in the "Star Wars" series, and midnight shows have become part of the summer blockbuster ritual.

But all-night sellouts far in advance of an opening have come only with the near ubiquity of online ticket sales. Fandango.com, for instance, reports well over 1,500 wee-hour showings for "The Dark Knight" in theaters that typically do not open their doors before about 10 a.m.
I expect to be a wee hour guy.  Despite the fact that the press screening drops Monday (the day I return to the states), I don't think I'll make the show.  So Thursday at 3:15 a.m. I'll be with the masses over at Universal CityWalk.
Meanwhile, Reel Geezers star Lorenzo Semple Jr. has cranked out a remembrance for Variety detailing his days as a scribe for the "Batman" television series.  If you can get past his woeful ignorance of the character int he first half, you might actually have a laugh at the direction he and Bill Dozier took the material and why.  Check it out:
Days of innocence, days of Andalusian heaven! From the very beginning, Bill Dozier and I had seen millionaire Bruce Wayne and his Bat regalia as classy comedy, hopefully appealing to kids as an absurdly jolly action piece and to grown-ups for its deadpan satire, entirely nonfraught with psychological issues. I mean, golly gee!
Personally, I love the old "Batman" show.  I recognize it for what it is and have a lot of fun with it.  I think it also says a lot for the character, that it has given way to so many (vastly) different interpretations.  But I was a kid once.  And pre-Tim Burton, I was plopped in front of the tube watching reruns of King Tut wreaking havoc — and tuning in, same Bat-time, same Bat-channel each and every week to see what happens next.
The special edition of the old "Batman: The Movie," by the way, is out on DVD and Blu-ray.  I'll be picking it up sometime next week I'm sure.