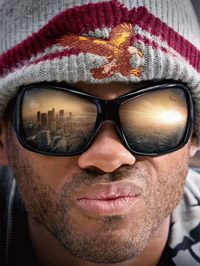 If you saw "Hancock" over the weekend, you probably noticed a brief scene in the middle of the closing credits sequence featuring Mike Epps and meant as a funny punch for your theater exiting pleasure.
It got me thinking about inter- and post-credit sequences — called "stingers" — and whether they ought to be eliminated altogether.  I ask this despite a history that includes a precious few great examples in films like "Ferris Bueller's Day Off" and perhaps extending way back to the point-and-shoot moment of "The Great Train Robbery" that sent audiences screaming out of nickelodeons in 1903.
Most of the time, these moments are random, useless and nothing more than a send-off treat (like in "Hancock").  Other times, they might be an "Easter egg" for those who know to stick around, like Samuel L. Jackson's Nick Fury scene at the end of "Iron Man." (There are also stingers after the credits of "WALL-E" and "Kung Fu Panda" this year.)
More often, however, they have the potential to leave viewers who weren't aware somewhat burned.  Or otherwise irritated — like Eric Snider of Cinematical, who dug into this issue in May.
The question actually brings up another point, which is, are the closing credits of a film a part of the greater artistic whole?  Plenty of opening credit sequences provide direct commentary on a film and could therefore be argued part and parcel of the piece.  But with few exceptions, closing credits are a tacked-on necessity that even those featured in the roll wouldn't consider any part of a directorial vision or collective filmmaking result — even if they are beautiful or interesting (i.e. "The Lord of the Rings: The Return of the King").
Then again, used to the right artistic effect, a subtle stinger might actually add to the overall canvas of a film.  Such is the case, I thnk, with the sound of children's laughter after the credits of "Children of Men."
Typically, the existence of stingers just annoys me.  I'm more at ease with the inter-credits stuff.  As I was leaving "Hancock," the Mike Epps scene kicked in and we all stopped and watch — har, har — off we go.  Fine, fair enough.  But if I miss something I realy want to see (like in "Iron Man"), it's quite irritating.
That doesn't mean I don't enjoy the scenes, however.  And I do have a few favorites.
My top 5 movie stingers of all time after the jump! (spoilers obviously involved)
1. "Iron Man"
Yeah, it's at the top for me.  Tony Stark (Robert Downey Jr.) comes home to find Nick Fury (Samuel L. Jackson), leader of S.H.I.E.L.D., waiting with a proposition.  Let's face it, it should have been at the end of the film like in "The Incredible Hulk," but it's a sweet scene.
httpv://youtube.com/watch?v=RT2RvYOX7K8
2. "X-Men: The Last Stand"
Professor X lives!  If anything, it makes Brett Ratner's failure somewhat easier to swallow.  At least he and the screenwriters didn't kill everyone.  But like the "Iron Man" scene, I would have kept it in the film and at the end.  It's too important.  Then again,t he last shot of the actual movie is pretty cool, too.
httpv://youtube.com/watch?v=v5RqclTyG0g
3. "Pirates of the Caribbean: The Curse of the Black Pearl"
The trilogy's feisty monkey snatches one of the cursed pieces of gold, making him immortal for the rest of the franchise.  The scene from the third installment might have made it if that film weren't some damned awful.
httpv://youtube.com/watch?v=bYGoda5ZrKQ
4. "Masters of the Universe"
Skeletor (Frank Langella) pops up, having survived his fall, and announces "I'll be back!"  I didn't discover this until MUCH later in life and I loved the combination of terror and cheese.
httpv://youtube.com/watch?v=hE70Kpax_RI
5. "Constantine"
I consider this Francis Lawrence film to be something of a guilty pleasure.  Sue me.  But the haunting nature of this bonus clip at the end gets me every time.
httpv://youtube.com/watch?v=1M2OTtdTnSs 
What are yours?