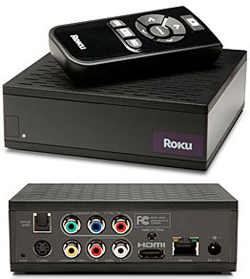 So…is this the future?  That's the debate, and part of the reason why I've stayed out of the HD-DVD/Blu-ray pissing match for the last three years.
Indeed, it's probably safe to say by now, what with the drastic changing of the tide in the music industry, that streaming and internet downloads for home delivery is the wave of the future.  And Roku's Netflix Player is a big step in that direction.
Wired (among other outlets) already shot its load over the player back in May, when the $100 equipment first hit the market:
On the technical end, this small set top box is dead simple to configure and use with my existing Netflix account. Plug it in, hook it up to the HDTV with an HDMI cable, plug in an Ethernet cord, and then use a confirmation code to link it to your account. I was running within five minutes.
And today, our friend John Campea has got his box up and running in Los Angeles, with a number of choice comments to add:
The video quality is FAR better than I was expecting…I'm watching it on a 42′* plasma TV and it looked GREAT. Not HD, but fantastic nonetheless…The future is here…instant streaming movies right to your TV over the internet. This must be how my parents felt when man first walked on the moon!!!!
Maybe so.  Apple has been tinkering with this kind of thing for a while now, though they have their head in the end game: owning flicks, not just renting them.  That is the real future — huge databases packed with movies and in HD quality.  Basically where music technology is now, no?  And some intrepid folks have already made steps toward those ends, loading up their iTunes libraries and pushing their Front Row program to the limit.
As long as we get to the stuff in "Minority Report" before I die.  That's all I'm asking.
*If John's TV is 42 feet long, I'll eat my hat.  We'll chalk it up to a typo.