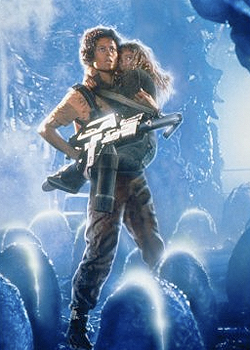 Meredith Woerner at io9 is wondering this week whether sci-fi/action writers will finally bone up and produce a sidekick to our modern cinema heroes and heroines worth the price of a ticket.
She's rightly spotlighting recent examples in "Live Free or Die Hard" and "Indiana Jones and the Kingdom of the Crystal Skull" as reason to change the tide in the wimpy second fiddle circuit.
Woerner brings the scuttlebutt regarding Sigourney Weaver supposedly being game for a fifth "Alien" installment in to fuel the fire even more, adding that Newt (from "Aliens") and Winona Ryder's Annalee Call ("Alien: Resurrection") didn't exactly pan out as they should have for badass, woah-man E.T. brawler Ellen Ripley in the past.
Personally — I liked Newt — but I dig this topic, so let's discuss.
Weaver managed the impossible in 1986 when she actually landed an Oscar nomiantion for her role in James Cameron's "Aliens."  Sure, people are talking up Heath Ledger for a supporting actor mention in this year's "The Dark Knight," but Weaver was banging alien heads and walking away with a LEAD actress nod over two decades prior (giving ammunition to many who had hoped for a similar trick to be turned by Uma Thurman in 2003's "Kill Bill: Vol. 1").
We must protect the Ripley legacy!  And I actually think giving her one fiesty, ferocious co-star would do just that.  And if Ridley Scott is indeed "enthusiastic" about going there again, it could be (could be) something special.
Anyway, I say put Ripley up there with someone able to take the throne.  Like Vera Farmiga.  Anything but another "AVP" massacre.  ANYTHING.