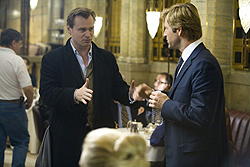 Always willing to be a bit brazen with his predictions (I like that), Nathaniel Rogers is busy updating his picks over at The Film Experience.  My favorite left-field notion is his choice of Christopher Nolan in the lone director slot for "The Dark Knight," naturally.
I had the same idea in mind three years ago, right up until the day before the nominations, even.  I caught some email flack for thumping the fanboy drum in the process, but it really felt like a possibility.  Well, I've learned my lesson (somewhat) and haven't bothered bringing it up this year, despite a nagging feeling that this critically acclaimed effort could indeed surprise us along these lines in January.
But let's just say I'm glad Nat's here to help carry the burden this time around.  As he shrewdly notes, "This isn't as far-fetched as it sounds."
Elsewhere, Rogers is hanging onto his "Miracle at St. Anna" forecast in the Best Picture arena, allowing "Australia" to join the party, while he finally finds some room for a little "Revolutionary Road" love in the lead actor and actress categories.
Read his expanded thoughts here.  The updates are on-going this week.
And while I'm busy tossing up pics from the set of "The Dark Knight" — I've always loved this shot: