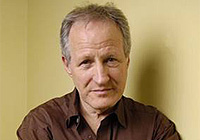 I dropped in to see "Hancock" tonight and was frankly taken out of the film for the five minutes or so filmmaker Michael Mann was on screen.
I noticed him initially, figured hey, Peter Berg let his mentor slide into the film with an on-screen cameo (Berg's offices are two or three doors down from Mann's Forward Pass headquarters over at the Tribeca West compound on Olympic).  But it turns out it's a speaking part.  Two whole lines!
Anyway, as for the film, I'm kind of compelled to comment on it now.  It's not a total wash.  I need to read through the initial draft of the screenplay that Jeffrey Wells posted recently because I'm sure there is some more depth, but even for what this film is, Berg milks it for the drama that it's worth.  I love the way he's filmed this thing, as I typically respect the effort he puts into visually depicting the ambitious scripts he chooses.
I'm not as thrown off by the mid-film twist as some were, either.  It's a smart way to go, actually, but it needed some more fleshing out, a little more finessing, to fully work.  It makes me wonder if indeed producer Akiva Goldsman (who pops up in that executive meeting sequence as well) got his paws on it and squeezed the life out of it, as he indeed did with "I Am Legend."  Perhaps not, but whatever the case, this one could have used a few more re-writes.
All in all, a good flick.  Some genuinely hilarious moments blend with the pandering necessities that come with a summer tent pole like this and I'd call it another respectable miss from Berg.  I can't help but thinking he's practicing, gearing up for something truly exceptional, and having Mann take him under his wing has really made its mark as well.  It'll come…sooner rather than later, I bet.
And word up on The Roots over the closing credits!
What did you guys think of "Hancock?"