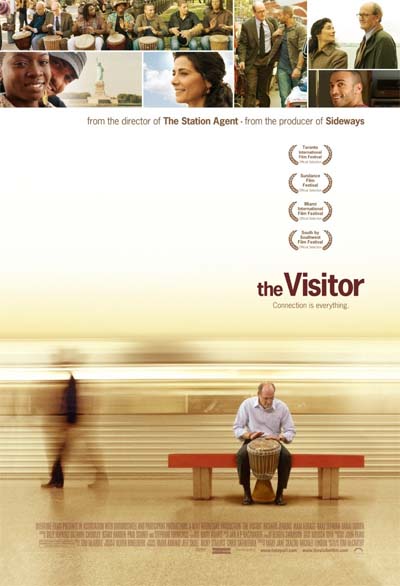 We've already been over what a thin year it's been so far for Oscar candidates – or good films at all, for that matter. Now Variety has come to the same conclusion. In his mid-year awards-season study, Timothy M. Gray goes so far as to say that "the past six months have offered fewer potential contenders than any January-June period in memory," and wonders if we're seeing a return to the days when the Oscars were dominated by winter releases from the majors.
Indeed, Gray only finds one title from the first-half of the year that he thinks has main category potential: Overture Films' "The Visitor," the prospects of which I discussed extensively yesterday. I'm not sure I'd boil down an entire half-year to a sole film ("In Bruges," anyone?), but I agree that "The Visitor" has a real campaigning advantage:
Keep an eye on Overture's "The Visitor": Lead actor Richard Jenkins has rightly earned awards buzz, but the film has many other virtues (Thomas McCarthy's script and direction, the other performances, etc.). McCarthy, a talented actor in his own right, has crafted an actors' movie — a character study with current-event concerns — that will play well on DVD, so late-year mailings could pay off.
(Indeed, the more I think about the film's position in the awards derby, the more it reminds me of a certain tiny spring release from last year: "Away From Her."
Looking forward into the rest of 2008, Gray ends up pondering most of the same questionmarks that we all are, including the following questions:
Will the early buzz sustain for Disney-Pixar's "Wall-E" and WB's "The Dark Knight" and Heath Ledger?

What effect will the Clint Eastwood double whammy — November's "Changeling" and the December bow of Warner Bros.-Village Roadshow's "Gran Torino," in which he stars as well as directs — have on kudos? Similarly, Scott Rudin, who was in the winner's circle with "No Country," has two December openers — but will he have a third with "The Reader," whose opening date is not yet set?

Benicio Del Toro won Cannes' actor award for Steven Soderbergh's "Che," but will it find a U.S. distrib this year and, if so, in what form will the two-part film be released?

And then there are … other questions. In the last few years, the song category has been dominated by tunes that were production numbers (as opposed to those end-credit or background songs). So does this bode well for Disney's "High School Musical 3" and Focus' "Hamlet 2"? (If the song "It's Hard Out Here for a Pimp" can win, there may be hope for the latter pic's "Rock Me Sexy Jesus.")
All issues that have been bandied round a lot, with no clear-cut answer on any of them. Right now, my frequently unreliable gut instinct tells me that the buzz for Ledger will hold, but that the Best Picture hysteria around "WALL-E" will die down (as it did with "Ratatouille" last year); that "Gran Torino" may have a better shot than "Changeling" (but that voters may by now feel that Clint Eastwood has been amply rewarded); and that, unless it's truly sensational, "The Reader" will get lost in the crush. (This ought to be Kate Winslet's year, but I think her "Revolutionary Road" character is more baity.) As for "Che," who even knows?
I'm grateful for Gray's last point, however.  In updating my predictions, I've been scrabbling desperately for Best Song candidates. Read the rest of his article, including a month-by-month list of notable releases for the rest of the year, here.