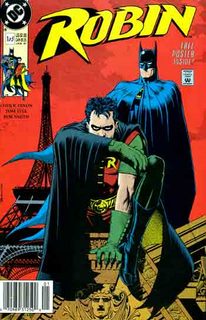 Batman scribe Jeph Loeb ("The Long Halloween, "Dark Victory") has jumped into the recent Robin debate, defending the character's potential in Christopher Nolan's current trilogy.
Hunter Stephenson at /film points us to this MTV story, which offers the following from Loeb:
Take the time to tell the story properly…There is a story of Dick Grayson and how he becomes Robin that is extremely moving and very helpful. …[Grayson/Robin] doesn't understand why it is that he needs to do this and Bruce doesn't understand why he's doing it either because he's not a parent. He doesn't know how to be a parent…together, they make each other better people…that for me would be the next step.
Stephenson also mentions that the recent Star Pulse item quoting Christian Bale's dismissal of the character may have been misattributed, indicating that the actor once noted one of his favorite Bat-stories was the very Robin-heavy "Dark Victory."  I never commented on the dismissal, because it frankly didn't sound like something he would have said.
Anyway, you've all heard my side of this debate.  I think there is plenty of room to do this story maturely and powerfully, and unless the filmmakers prefer to lock in to what could be a very straight-line, three-film arch, a saga more epic than most could imagine is there for the taking.  And Loeb seems to understand that it would need to be something for the long haul, not a quick fix:
I wouldn't let him become Robin until the third act, if that. I think that's the other problem when you tell that story is that there's this rush to put him in a costume by the end of the first 20 minutes and in that case I think it's a disaster…
Read more of the Loeb interview here.