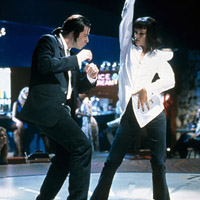 Time is the enemy of all films as it erodes what was once exciting and original. Truly great movies are able to withstand the test of time, but I wonder if enough time has passed to take a look back at the 1990s cinema and make some decisions.
There was a major breakthrough in the decade with filmmaker Quentin Tarantino, who did not so much open the door for indies as he did kick it in and stomp on it with his "Pulp Fiction," a gloriously acted, directed and written masterpiece about criminals in Los Angeles.  When Godard spoke of making films with a guy, a girl and a gun, was this what he had in mind?
Though Tarantino has strugled to follow up his legendary 1994 effort with an equally powerful offering, there is little doubt he will, or at least could if he wanted to. (Though he keeps stopping and starting on his latest ambitious project.)  After all, he is still growing as a director.  And just look at Steven Spielberg, who for my money has grown artistically through the last 15 years more so than any other major filmmaker. It was as though "Schindler's List" and the release of winning the Oscar set him free.
Anyway, for the record and argument, here are my ten best films of the 1990s:
1. "Pulp Fiction"
2. "Schindler's List"
3. "Goodfellas"
4. "Unforgiven"
5. "Saving Private Ryan"
6. "The Sweet Hereafter"
7. "Magnolia"
8. "L.A. Confidential"
9. "The Shawshank Redemption"
10. "The Silence of the Lambs"
You?