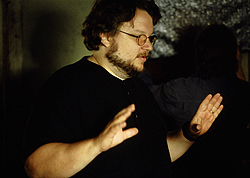 Variety's Peter Bart sat down recently with "Hellboy 2" director Guillermo Del Toro, presumably for the upcoming episode of AMC's "Shootout."
He also has some nice pics up of the inventive filmmaker's infamous sketchbooks, though they're covered in watermarks.  I assume it's all in the way of plugging Sunday's episode (which should be a good interview…Del Toro could make even Peter Guber seem to be asking pointed questions).
Here's a look:
Del Toro is a man who loves to let his imagination roam, but he is very much a serious student of film who can discourse on the craft of Hitchcock and who helps guide and promote the work of fellow Mexican filmmakers like Inaritu and Cuaron (with whom he has a production company called Cha Cha Cha). For him, movies are both a playpen and a serious business — and a superbly remunerative place to have a happy childhood.
I'm REALLY looking forward to "Hellboy 2: The Golden Army," I must say. I was not much of a fan of the initial installment, though I could not, at the time, deny the sheer scope of imagination on display. The trailers and promotional materials for the sequel have indicated the next level of visual splendor, so much so that Cinematical's James Rocchi said he felt as if his "imagination had eaten too much."
And despite my extreme distaste with much of Peter Jackson's "Lord of the Rings" franchise, I'm oddly anticipating Del Toro's "The Hobbit" with a twisted sort of glee.
Finally, it's a few days old, but Jeffrey Wells recently sat down with the filmmaker (he's always been an admirer). Have a listen.