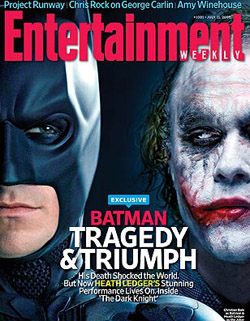 Benjamin Svetkey has cranked out a thoughtful, compelling cover story study of Heath Ledger's performance in "The Dark Knight" for next week's Entertainment Weekly.
The piece, titled "Tragedy and Triumph," concerns itself with how Ledger's death has affected expectation and perception in the lead-up to the film's release in a little more than a week.  It's tightly written, one of the better features out there on the film.
There are money quotes all over the place and plenty of insight from Svetkey's early set visit woven in here and there.
However, there is a stupid, pointless graph at the top of the fourth page that is ridden with a few spoilers.  It's totally unnecessary and evidence of a journalist strutting, if you ask me.  But the rest: top notch.
On the casting of the Joker, here's what Svetkey cranked out:
With Bale contractually locked in for two more Bat movies, and Nolan on board for at least one more, the only thing needed was an actor to play the bad guy. There certainly wasn't a shortage of options. Robin Williams, Sean Penn, and even Mark Hamill were rumored to be on Nolan's short list (at least Hamill had practice, having voiced the Joker in various superhero cartoons). What nobody knew at the time, though, was just how short the director's list was. "Heath was the only one on it," Nolan insists. "I knew he was it from the start."
And an interesting segment on the makeup of the character:
Ledger also gave plenty of thought to the makeup that would be splattered across his face throughout the film. "He started applying the makeup himself — just to see what it would look like if he put it on with his own hands," Nolan says. "We talked about how streaking the paint could get across the idea of corruption, of decay."
Check out the rest here.  But be wary of that first graph on the last page.  You can skip it totally and the article reads just fine.
And finally, here's a glimpse of Ledger's work in the film:
httpv://www.youtube.com/watch?v=b4FZdsIDsKE