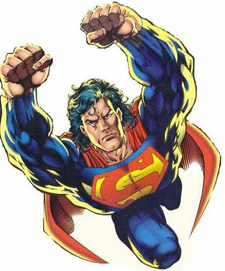 Two posts at /film and Obssessed with Film have me spinning my wheels this morning, wondering just who in the heck has approached comic scribe Mark Millar to revamp Superman for the screen in three years.
The whole story started with a Daily Record interview that quoted Millar as saying he "always wanted to reinvent Superman for the 21st century."  He then went on to reveal that he had his "director and producer set up" and that there was even a target year in mind: 2011.
This, of course, sent the Web geek community into a bit of a tizzy.  In response, Millar (creator of "Wanted" and author of "Superman: Red Son") had this to say:
PS: That Superman news is interesting, isn't it? In the interests of clarity (because I'm sure this will be picked up somewhere) a very well known American action director heard about my love of Superman, approached my (sic) and asked me to team up with he and his producer to make a pitch for this. We've been talking for several weeks now and, if this is going to happen, we'll know by Christmas. He has huge pull at WB so fingers crossed. But this is nothing more than a huge US name pulling me into his fold and making me part of a package.
The first name that leaps to my mind is Wolfgang Petersen, but he's obviously German.  However, you may recall Petersen was signed on to direct a Superman vs. Batman film for Warner Bros. way back in 2002.  That was, of course, way before Christopher Nolan unleashed his reboot of the Batman franchise on the marketplace.  Peterson might be construed as having "huge pull at WB" since he releases most of his films through the studio and has managed a few considerable hits there ("The Perfect Storm, "Troy") despite the occasional clunker ("Poseidon").
The filmmaker was also quoted as recently as two years ago — during the build-up to Bryan Singer's "Superman Returns" — expressing an interest in pitting the two superheroes on the screen together.  Sure seems like a possibility to me.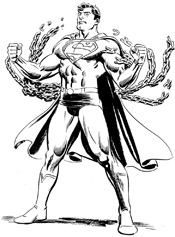 Who else could Millar be hinting at?  The Wachowski Brothers have sure made a bundle of money for the studio in recent years.  "Watchmen" helmer Zack Snyder has also been welcomed with open arms in Burbank after delivering big on "300," and he seems just the sort of person who'd be interested in reimagining the Superman character for a new franchse.
Francis Lawrence?  "Constantine" didn't really find its footing, but "I Am Legend" (thanks to Will Smith, of course) made a killing worldwide.
McG?  The "Charlie's Angels" films made bank at Sony, but he still convinced Warners to hand him the key to a massive franchise in the form of "Terminator Salvation."  He's also been here before and, according to rumor at the time, had one hell of a mind to revamp the franchise with casting speculation such as Beyoncé Knowles and Johnny Depp floating about.
And surely Tim Burton — a WB staple through the years with "huge pull" indeed — isn't treading these waters yet again.  Or is he?  He certainly had a unique vision of the character once upon a time.
Thoughts?  As long as it isn't Brett Ratner, I'm happy.