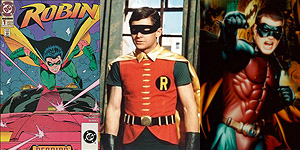 (I'm going to geek out quite a bit here, so bear with me.)
Erik Davis at Cinematical points us today to what I would consider a rather ill-advised rant from Sturdy of JoBlo against the idea of introducing the character of Dick Grayson (a.k.a. Robin) into the Christopher Nolan Batman franchise.
Now, I would like to be measured here, because this is an argument far too easily given to hyperbole regarding what Robin is and what he means to the Batman mythos, to say nothing of what his existence means in the scope of a relationship with Bruce Wayne.
I think an introduction is possible, if not valuable, to the franchise Nolan has crafted thus far.
If there is one argument from Sturdy on which I side, it is that Robin has never worked on film or television.  Burt Ward's incarnation in the 1960s television show worked for what the series was going for, but not for what the character was, while the Joel Schumacher films depicted a character far too old and leaning much too heavily on the "young, dumb and full of cum" credo that must have been difficult to resist.
I do, however, think the notion that Robin has never worked in comics can only come from a reader never truly engaged in what DC writers have done with the character over the years.  Indeed, many story lines failed because it is a dynamic that is difficult to grasp and control (not to mention dense with a three character history), but the proof of Grayson's worth came with his own evolution into an adult less convinced but more understanding of his role as a vigilante than Bruce Wayne could ever be.
To begin with, I think there is much to be made of a youthful character enduring the pain and suffering Wayne encountered as a child and being flung into the custody of the billionaire playboy.  The cliched defense has always been that Grayson brought out a humanity in Wayne, and I think that still remains true.  Wayne is afflicted by a selfishness, while Grayson forces him to understand his own many layers.  But I believe there is even more to be gained from watching the evolution of Robin into Nightwing, an antithesis of sorts to the Bat first introduced in the mid-1980s.
An entire trilogy could be created to tell the Grayson/Robin/Nightwing story, one as theatric as Wayne's if not more so.  Indeed, depending on the patience and commitment a filmmaker has to these characters, a lineage could be captured on film rivaling the greatest of cinematic adaptations, and I say that with the straightest of faces.  If critics are evoking "The Godfather" in their assessments of "The Dark Knight," they might find themselves refering to Roman mythology when struggling to convey the epic potential found within this relationship.
Of course, the comics have depicted three separate Robins in the last 40 years, which makes these waters tricky to navigate.  But I believe aspects of Grayson, Jason Todd and Tim Drake could be lifted to create a solitary, definitive depiction, one that carries across the importance the character, in all his forms, has meant to Wayne in countless issues and countless story archs.  In so doing, Nolan might conceive the genesis of an entirely different vigilante with his own set of ideals, his own lessons learned and his own vibrant story to convey.
So if Sturdy is right, and Nolan is considering introducing Robin in the third installment of his pre-conceived trilogy, I don't think it's time for despair in the slightest.  The filmmaker has said in the past that he is uninterested in the character, while some have speculated that the boy from the third act of "Batman Begins," Jason, might be a wink if not an introduction of the character of Jason Todd.  But whatever the case may be, I think Nolan has proven himself to be more than understanding of what does and does not work.  He deserves more than the benefit of the doubt.