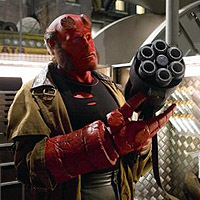 I must admit, the Los Angeles Film Festival hasn't always been on my radar in the past, but its stature seems to be growing from year to year. This year's edition wrapped up on Sunday, with the jury prizes going to Sean Baker's "Prince of Broadway" in the narrative feature category, and to Darius Marder's "Loot" in the documentary section.
Just as significant, however, in a festival that boasts "The Audience is King" as its slogan, are the audience awards. Here, a pair of films that already took audience awards at Sundance earlier this year repeated the feat: Jonathan Levine's "The Wackness" took the gold in the narrative section, while James Marsh's Brit documentary "Man on Wire" won the international audience award. In the documentary category, Sacha Gervasi's "Anvil! The Story of Anvil" emerged victorious. A summary and full list of awards can be found here.
The former two have had buzz building around them for months; indeed, earlier in the year, I had Levine's oddball character comedy on my Best Original Screenplay list until the category got a bit crowded. Still, one to keep an eye on, particularly at the Spirit Awards. Meanwhile, "Man on Wire," a study of Philippe Petit's law-defying 1974 tightrope walk between the Twin Towers, has me very excited for its UK release next month. I'd be tempted to predict an Oscar nomination for the film, which also won a Grand Jury prize at Sundance, but the Academy can be sticky about non-US docs.
The documentary selection appears to have been particularly strong at this year's fest. The ever- dependable indieWIRE has an excellent wrap-up of their non-fiction highlights, of which their top pick is Stefan Forbes' fascinating-sounding "Boogie Man: The Lee Atwater Story:"
As timely as it is comprehensive, this study of the dirty political mastermind behind the Ronald Reagan and both Bush campaigns is sure to resonate far and wide with viewers on both sides of the political fence. Forbes may not uncover a ton of new ground about the cutthroat tactics used by this influential member Republican party in the last three presidentials elections, but he certainly manages to consolidate it all into a managable and often hilariously shocking ninty-minutes of screentime that prides itself on personable interviews and a plethora of fantastic found footage.
Elsewhere on the web, Film Threat's typically chatty fest wrap-up includes a ringing endorsement of top winner "Prince of Broadway:"
My fave film of the festival … This urban tale focuses on the life of New York street hustler Lucky and how it's turned completely upside down by the arrival of a baby he never knew he had. I know, I know…sounds like a wacky John Hughes comedy. It isn't. Super genuine storytelling mixed with some amazing performances make this one a must see.
Of course, possibly the biggest news of the festival was the closing-night premiere of Guillermo del Toro's "Hellboy 2: The Golden Army," which of course couldn't be further removed from the scrappy independents that dominate the festival lineup. Regardless, the film's enthusiastic reception indicates that del Toro's individually-minded artistry has remained intact. In his near-rave review, Cinematical's James Rocchi puts it rather poetically: "I stumbled out of 'Hellboy 2: The Golden Army' feeling as if my imagination had eaten too much."
Over at her blog, Anne Thompson concurs, but thinks it's a tough sell:
Some moviegoers, especially the core fanboys who loved the Dark Horse comics and the first installment, will embrace Hellboy 2's fantastic eccentricities, while others will be left behind, scratching their heads. I doubt the visually sumptuous pic will break out into wide acceptance, especially given the stiff summer competition.
Seems like this is the season of off-kilter comic-book films then. Whatever the ultimate fate of del Toro's film, it sounds like an appropriately unconventional end to a pleasingly independent-minded festival.