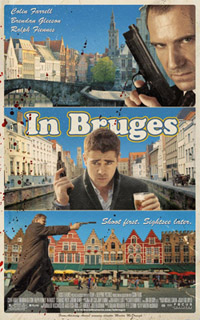 We've reached the mid-way point of 2008, a year that truly seems to be speeding along (or is it just me?).  That means it's time to assess what's come down the pike over the last six months as our contributors make their picks for the best and worst cinematic offerings of the year so far.
If you want my thoughts on the Oscar potential of these and other releases from the first half of the year, check out this week's Off the Carpet column.
Note: With Gerard, Guy and me being in the UK at the moment, neither of us has had a chance to see "WALL-E" yet.  Press screenings won't happen until later in the month and it finally opens out here on July 18.
In Contention's picks for the best and worst of the year after the jump!
Kristopher Tapley
Best: "Taxi to the Dark Side"
Worst: "The Happening"
Comments: If I had to go with a live action effort, I would truthfully say "Cloverfield," which got me on such a visceral level that it's still probably my favorite film of the year.  But Alex Gibney's "Taxi" is an important, even-handed assessment that will make you equally ashamed of and hopeful for your country.  It's too bad he's dealing with a distribution nightmare at ThinkFilm, because the more people who see his film the better.  "The Happening," meanwhile, is strike three for M. Night Shyamalan and a disgrace of a picture.  He did worse by his actors than any helmer in recent memory, despite his abilitiy to convey a suspensful yarn.  That is the ultimate sin of any director.
Gerard Kennedy
Best: "Iron Man"
Worst: "21"
Comments: While I don't buy the "best superhero movie ever" hyperbole some people are putting on "Iron Man," Jon Favreau's take on the Marvel character was smart, involving, filled with great effects and a performance from Robert Downey Jr. that at least puts forth the best superhero protagonist in a long time. And while I am not afraid to admit that director Robert Luketic's "Legally Blonde" is a guilty pleasure, the over-serious, overly clever "21" continues to show the recent lack of range of Kevin Spacey and Laurence Fishburne.

Brian Kinsley
Best: "WALL-E"
Worst: "Beverly Hills Chihuahua"
Comments: For best, I find it practically impossible to pick anything other than "WALL-E". Even if it wasn't the most groundbreaking animated film in years, the simple story of a lonely robot packed an emotional wallop that I didn't see coming.  I haven't recovered since. As for worst, I've skillfully avoided seeing any truly bad movies in theaters this year, but one cannot describe the pain I had sitting through the trailer for "Beverly Hills Chihuahua." In a duel between that abomination, and my least favorite film from 2007 — "AVP2" — I'm not sure which I'd wish upon my enemies first.
Guy Lodge
Best: "In Bruges"
Worst: "Indiana Jones and the Kingdom of the Crystal Skull"
Comments: "In Bruges" is the surprise package of 2008 so far. Irish playwright Martin McDonagh's debut evades tired hitman-comedy territory via breezy performances (including a never-better Colin Farrell), inventive location work and, above all, the savage intelligence and elegiac wit of McDonagh's writing. "Crystal Skull" is the sequel that nobody asked for proving to be as bloated and prosaic as its title.  Cate Blanchett alone locates a faint pulse in the DOA material; she deserves some kind of medal.
John Foote
Best: "Iron Man"
Worst: "88 Minutes"
Comments: Finding even five good films released so far this year was a stretch for me. Sadly the worst list is always loaded with pictures, the difficulty there being which is truly the worst? The good news? The year is half over, we are edging closer to the fall when the studios unleash their good films. The bad news…we will still get a glut of bad movies.
Blake Rutherford
Best: "The Visitor"
Worst: "Indiana Jones and the Kingdom of the Crystal Skull"
Comments: Richard Jenkins is a captivating and unassuming leading man in "The Visitor," and in any other year he'd be on a short list for Oscar. "Indy IV" was a monumental letdown. It was overdone by George Lucas and the story wasn't tended to in the way – after 19 years – it should have been. Too much CGI; too little story development (not to mention the conclusion which felt a lot like "National Treasure: Book of Secrets.")
What are your picks for the best and worst films of the year so far?  Tell us below!