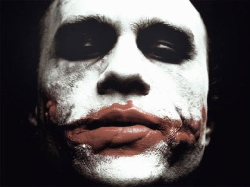 With reviews trickling down for "The Dark Knight" in the last 24 hours or so, everyone seems to be going out of their way to hail Heath Ledger's performance as Oscar caliber, perhaps even sporting the chops to win the award posthumously.
Of course, we've been all over that scenario for months here at In Contention, but it's occured to me now that Warner Bros. might have a case to push this apparently epic portrayal for all it's worth.
I'm talking about a nomination for Heath Ledger in the Best Actor category.
Stranger things — indeed, similarly atypical scenarios — have certainly happened.  The easiest excuses remain Lee Marvin in "Cat Ballou" and Johnny Depp in "Pirates of the Caribbean: The Curse of the Black Pearl."  If a genre performance comes along that is so earth-shattering, or perhaps not even that so much as a head-spinner that demands critical attention and adoration, the Academy seems willing to comply in those often heated lead races.  Why not this year?  Why not this performance?
By all accounts, Ledger seems to be blowing his co-stars off the screen.  More than simply chewing the scenery, it appears he is gnawing on the film stock, owning the film and every meaningful aspect of it.
Respect might well be demanded in a manner we didn't expect — perhaps Mr. Ledger will go into the Oscar books a two-time nominee for Best Performance by an Actor in a Leading Role.
More in the charts on Monday.