Our pal John Campea over at The Movie Blog is back in Los Angeles after some time back home in Toronto this summer, and right out of the gate he's slapped up a review from last night's screening of "The Dark Knight."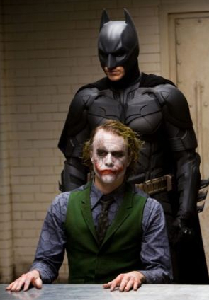 It's a glowing assessment to say the least, and at one point John says he was ready to call the film one of the best cinematic endeavors of the last three or four years.  But John's getting old, what can I say — and the length of the film kind of got to him a bit.
To each his own.  But I doubt there will be too many people upset with the apparent direction the final act takes (in the way of bridging over to the eventual third film).
It's worth noting that John structures his reviews in a very accessible way.  His site is and has always been a film site, a great community of movie lovers with no pretensions.  Keep that in mind as I offer his load-busting assessment of Heath Ledger's performance:
One of the things I was preparing myself for was how over hyped the performance of Heath Ledger was going to be. Since he passed away, I knew he'd be getting rave reviews out the ying (sic) yang no matter what and I'd be frowned upon if I said any different. But holy mother suck puss face… HEATH LEDGER DESERVES AN OSCAR NOMINATION FOR HIS PERFORMANCE AS THE JOKER… no… I'm not even kidding in the least. I was totally, 100% blown away like nothing I've ever seen in a comic based movie before.
And the closer:
Holy crap did Two Face look WICKED!!!
Then he gets into why the length bothered him, etc.  Check out ther rest here.
I haven't seen any other reviews drop yet, but I'm sure we'll start seeing them throughout Friday and into the weekend, when the junket screenings start to land.  Be on the lookout.