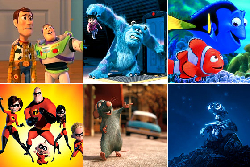 In honor of today's release of Walt Disney/Pixar's "WALL-E" (it seems we're sticking with the hyphen), the gang at New York Magazine's Vulture blog have offered up a countdown of the best films in Pixar's consistently impressive portfolio.
I have to say, I share their opinion that "The Incredibles" simply…isn't all that.  I was on the bandwagon for "The Polar Express" back in 2004, but comparisons aside, the film never hooked me the way it did the rest of the film-going community.  And that says a lot, given my comic geek roots.  It's a nice film, but a little flat.
Their pick for the studio's greatest work is a slightly unconventional choice: "Monsters, Inc."  I confess I actually haven't given it a second look since 2001 (what became the year of "Shrek"), but I've been meaning to pick up a copy for a number of years now.
My choice is far and away "Finding Nemo," the only animated film ever to land in my top five for a given year (#3 in 2003).  But I do love the "Toy Story" films.
Here's their list:
1. "Monsters, Inc."
2. "Finding Nemo"
3. "Toy Story 2"
4. "Ratatouille"
5. "Toy Story"
6. "A Bug's Life"
7. "The Incredibles"
8. "Cars"
I obviously haven't seen it yet, but it's looking more and more like "WALL-E" will top everyone's list in due time.
Speaking of "WALL-E," Sasha Stone at Awards Daily has put up her first State of the Race column this week, focusing on the film, its awards potential and the political message supposedly within.  Take a look:
Wall-E begins its run at midnight.  Some peripheral chatter is focused on it being not kiddie fare or it being a target for conservatives for having a "message."  If the message ends up being that we as a culture have a disease of consumerism and that it will end us in pathetic ruin, that is not a great leap in logic.  Look around.

But if the conservatives do start whining about it that only means its Oscar chances shoot through the roof, as if they haven't already.  We have here a "too big to ignore" film, a Schindler's List of the animated feature category and if anything is to take it down it's only going to be a shocker at the box office, an extremely unlikely scenario.
Read the rest here.