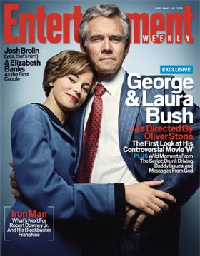 Poor "W" can't catch a break.
Stanley Weiser's take on our Commander-in-Chief (*shiver*), had already caused a stir in more than a few areas before principle photography even began two months ago.  The first shockwave hit when the script was profiled by Marcus Baram for ABC News back in April.  Then The Hollywood Reporter consulted with four Bush biographers to assess the accuracy of the depiction. Their view: not so much.
New York Magazine's Vulture blog, always quick with the wit, predicted the film to be the comedy hit of 2009 before later getting their hands on a copy and enlisting the aid of the Upright Citizens Brigade to perform five of the more ridiculous moments for posterity's sake.
Weiser's script quickly became the most widely circulated screenplay I've certainly ever heard of, and no one — save Jeffrey Wells — had a kind word to say about it.  So much drama and the film hadn't even been fully conceived yet, as casting continued and locations were locked in for the April production start.
We all know Oliver Stone was adament that the film (formerly known as "Bush" — clever titles all around) be in the marketplace "before the president leaves office in January." But he might be wishing he'd just sprung this thing on everyone like a true October surprise.
And now, another voice has chimed in.  Ryan Adams of Awards Daily had this to say:
Sad to report, having now read the complete screenplay, I can assure you that the groaners we saw two months ago were the good parts. The teaser poster publicity material doesn't try to pretend that 'W' intends to portray Bush as anything except an embarrassing joke. But guess what? I don't find war crimes very funny. Yuck it up Oliver Stone.
Personally I think Adams is way off the mark and even a bit immature in his assessment of the script's (and Stone's) intentions, but if we do share a point of view it is that the screenplay is quite awful.
I ran a brief one-off when I was about half-way through the script a few months back, but I'll save the deeper discussion for August when we launch Page to Screen once again.  And of course, the real judgment ought to be saved for Stone's finished product when Lionsgate releases it in the Fall.