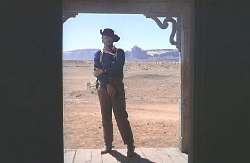 In light of Kris's recent westerns piece, I thought it might be worth it to give some space to what I believe to be one of the most underrated actors of all time.
Cinematical recently carried a marvelous article on John Wayne, supporting the belief that the screen legend was an exceptional actor (in the right role) and that perhaps Hollywood and the critics had not given him his due while alive.  Certainly his work was appreciated by audiences, who made him the top box office star for more than 20 years.
I grew up watching Wayne and even defended him as an actor some time ago to a very skeptical university professor.  Using the actor's performances in "The Searchers" and "The Shootist," I wrote my paper and received an "A." I figured I must have proved my case. But my professor passed me in the hall a year or so later and told me I had converted him to the Duke, and he had now seen many more of his films.
Obviously part of the issue had been just that: he had not seen all of Wayne's work — and he was more than a little attached to Sir Laurence Olivier (in my opinion the most overrated actor in the history of the cinema). But you could always see Olivier acting, working the trade.  I defy you to catch the Duke mugging.
While Wayne often portrayed a variation of what audiences perceived him to be in real life, there were characters that challenged him as an actor and allowed him to stretch. Though he won the Academy Award for his jaunty performance as the tough old one-eyed geezer in "True Grit," he certainly should have won for his raging Ethan Edwards in "The Searchers" and been nominated for at least a half dozen others.
As it is, Wayne received a measly two nominations throughout his entire career, the first for "Sands of Iwo Jima," and 20 years later for "True Grit," bringing with it more than its share of sentiment.
Wayne's first great performance was in "Red River" as a sort of Ahab on the cattle drive, obsessed with getting the herd in, only to have it stolen from by his adopted son, portrayed by Montgomery Clift. Playing a man older than he was at the time, Wayne was a powerful presence and gave a great performance more than matching the trained method actor at his side on the screen.
One year later he was superb not once but twice in the afrementioned war picture "Sands of Iwo Jima" and then in a radically different film and performance as the retiring Cavalary man Nathan Brittles in John Ford's beautiful "She Wore a Yellow Ribbon."
If you're still not convinced, see "The Quiet Man," one of the greatest romantic comedies ever made, in which Wayne's light-hearted performance opposite Maureen O'Hara throws sparks at the audience. It's a robust Irish rom-com that ranks among the best of the decade, and certainly one of his best performances.
What more can be said about his towering work in "The Searchers," a portrayal John Milius calls the greatest film performance of all time? There is such admiration for this film from directors like Steven Spielberg and Martin Scorsese. It is astounding to think when first released, it was not well regarded for the work of sublime art that it is. Wayne was cast against type as Ethan, a racist hell-bent on finding his kidnapped niece, not to save her, (well perhaps in his warped mind), not to bring her home, but to slaughter her for being defiled by Indians. The seething hatred he feels for those who murdered his kin is apparent in those ice-cold eyes.
In the film's final moments he comes face to face with her, years later, and finds at the end of his quest the single thing he did not expect to discover: his own humanity. He lifts her high over his head, as he had done when she was a child, sweeps her into his massive arms and whispers, "Let's go home Debbie." He later stands outside the door of the homestead, unable to go in as the doorway frames his iconic figure. He is forever a wanderer. Today it is inconceivable that he was not nominated. And he certainly should have won over the eventual victor, Yul Brynner in "The King and I," as well as the other nominees: James Dean and Rock Hudson in "Giant" and Kirk Douiglas in "Lust for Life."
Three years later Wayne should have been back as a nominee in "Rio Bravo", Howard Hawks's angry lash-back at "High Noon" which he and Wayne felt to be a study in cowardice. Hailed by filmmakers such as Quentin Tarantino, "Rio Bravo" is a superb studio western with the actors giving pitch-perfect performances.
In between "Rio Bravo" and "True Grit" there were many films, the best of them oddly enough a jungle epic entitled "Hatari" in which Wayne portrayed a hunter of wild game for the world's zoos. He was also very fine in "The Man Who Shot Liberty Valance," though that is more Jimmy Stewart's picture, a fact Wayne himself admitted.
The Cinematical article does a marvelous job describing his brilliance in "True Grit," however there is one tiny moment that for me sums up everything he was in that film. The bandits are making their escape through the meadow, and see that Rooster is blocking their path. He is alone. There are four of them, outnumbering and outgunning him. He knows and they know. Does he back away and give them the road? Hell no, he spins his rifle, cocking it in the process and boldly moves forward offering two of them the road before being taunted as "one-eyed fat man," at which point he takes the reins in his teeth, draws a weapon in each hand and charges at them like a crazy old knight. And the writer of that piece is bang-on about the final image in the film — it is astounding and draws tears from me every time I see it.
His last great performance was also nomination-worthy and it is to the shame of the Academy that they did not see fit to give it proper recognition. As J.B. Books in "The Shootist" Wayne is deeply moving as an old western warrior in 1901, dying of cancer as the west around him dies off along with him. At the time Wayne himself was being ravaged by the disease, but soldiered on offering his bravest and yet most heartbreaking portrayal to date.
Today it is much to my excitement that a whole new generation of movie goers are discovering the Duke. And they love him just as we did. What is equally thrilling is that finally, after all these years, he is getting the respect he so deserved in his lifetime as an actor. Out of place in Shakesepeare, sure, but in the right role, with the right director, few were better.
Related Posts