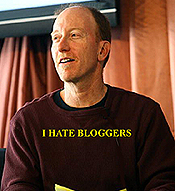 <<< Not anymore!
I was told last week that LA Times columnist Patrick Goldstein would be launching a blog of his own, and today I see that The Big Picture has morphed into just that.  I must say, even when I was tipped off to this development, I didn't believe it.  This is the hater of all things blog we're talking about.  His own publication agrees!
Anyway, I'm glad the brass downtown finally dragged Goldstein kicking and screaming into the brave new world, however embarassing it might be for him.  Here's what he has to say about it:
But in journalism, it's time for a change–big change. As you might have heard, this newspaper, along with virtually every other paper in the country, is under siege. Our whole business model is in free fall–circulation is dropping, profits are down and lots of talented people are losing their jobs. We can moan and groan about it or we can try something new.
Now pick your jaw up off the ground and go give him a look.  Personally, I think he'll enjoy it.  At the very least, that blogger-induced anger will have a daily outlet, and perhaps we won't have to endure one of those yearly "they're ruining everything" columns.  Then again…