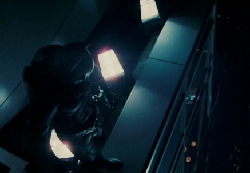 Many thanks to reader Mr. Gittes (perhaps as much a Bat-fiend as yours truly), who pointed me to this Wired story detailing director Christopher Nolan's torrid love affair with all things practical in the world of action cinema.
Much has been said and written of Nolan's preference for saving the CGI drama for your mama and having the cojones to go out and actually do the stunts, prepare the gasp-inducing set-pieces and thereby root the new Batman franchise in the reality it deserves and, in a sense, begs for.
There are so many quotable lines in Scott Brown's incredibly thorough piece that I find myself anxiously picking and choosing.  But I suppose it's worth it to start with the basic leader:
While today's action heroes routinely come dressed in shades of the giddy synthetic (à la Spider-Man and Iron Man), movie fans have gorged on digital eye candy — and, perhaps fearing retinal diabetes, now they're cutting back (Speed Racer, anyone?). Still, gritty naturalism is no small leap for the spandex genre. It's a mood more identified with art noir and the prestige pic, the kind of cinema built to attract Oscars, not mass audiences…

…Nolan has a cogent Theory of Applied Batmatics: Insist on reality — no effects, no tricks — up to the point where insisting on reality becomes unrealistic. Then, in postproduction, make what is necessarily unreal as real as possible. "Anything you notice as technology reminds you that you're in a movie theater," Nolan explains. "Even if you're trying to portray something fantastical and otherworldly, it's always about trying to achieve invisible manipulation." Especially, he adds, with Batman, "the most real of all the superheroes, who has no superpowers."
Then perhaps segue into the most refreshing news yet (news to me, anyway), regarding ADR on the film:
Nolan would rather fix it while everyone's still on the set. He hates to loop. "I just think separating the voice from the face and the body is very tricky," he explains. It is, after all, blatantly unreal.

So did the director get everything he needed from Ledger before his death? He says yes: Ledger nailed it in principal photography. Thomas adds, "Everything you see onscreen is his performance." (In other words, there'll be no clunky digital resurrection, aural or visual, no morbid echoes of Oliver Reed's posthumous performance in Gladiator.) Besides, Nolan doesn't believe in bringing an actor back six months later and expecting him to re-create the nuances of a character, any more than he believes a computer can re-create the quality of human camera work on its own.
But I can't resist offering up the line Mr. Gittes chose, the line that'll force the hairs on any fanboy's neck to stand at attention:
He was moving on. But there was one small problem with leaving Batman behind: He knew how he wanted it all to end. He had something Godfather-ish in mind, a saga of dark doubles and transfiguration — big, dense, and novelistic.
It's quite an absorbing piece, with more than its fair share of tech-talk, from the realities of shooting with giant IMAX cameras to descriptions of filming Christian Bale actually standing on top of the Sears Tower.
Check it out.  You know you want to.