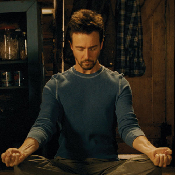 What can be said of the fearless Edward Norton, who recently became an on-screen comic book hero?  I never understood his choice to take on the role of Bruce Banner, a.k.a. The Incredible Hulk.  And now, post-release, I'm still puzzled.
He walked into a franchise that became a fast mess just five years ago.  And according to IMDb, he turned the role down back then. Given the actor's commitment to characterization in his performances, it makes sense that he would turn the other cheek.  After all, so much of Bruce Banner, or at the least what audiences might want to see, is a technological creation. Unlike any of the characters in "Iron Man" or in the upcoming "The Dark Knight," Mr. Norton doesn't get to sport a good makeup job and put his true talents on display. He has to disappear all together.  It seems so unlike him.
Norton has given exceptional performances in "Primal Fear" and "American History X," both of which earned him Oscar nominations. His work in "Fight Club," "25th Hour," "Down in the Valley," "The Illusionist" and "The Painted Veil," to name a few, was quite impressive, each of themdeep character studies of troubled men.
Dr. Bruce Banner isn't much different, I suppose. After all, he lives with Gamma poisoning and if his heart rate climbs too high (no sex!) he becomes a chiseled green beast that's bullet proof and flame retardant. He can rip cars in half. Yet Banner hates living with his condition; it's inconvenient to control.
Director Louis Leterrier's effort is n -better than what Mr. Lee and his CGI pals created in 2003 because, like "Superman Returns" — Bryan Singer's unfortunate re-visitation of the Man of Steel — you can't get away from the need to impress ticket-paying audiences with macho displays of bang and crash. "The Incredible Hulk" just got silly when a second CGI-generated creature hit the streets, stirring up trouble.  Mr. Leterrier had walked into his own trap.
George Lucas, for all his pioneering in the movie business, made three really bad movies and ruined the "Star Wars" franchise for a new generation of moviegoers who only knew Episodes IV, V and VI on VHS and laserdisc. That was because he ventured too deep into creative technology that many felt would redefine filmmaking. In turn, he created frustratingly busy cartoons with really bad writing. The same failure was spelled out in the lastest installment of the Indiana Jones franchise, a complete artistic flop.
I can understand why Brandon Routh, Eric Bana, Hayden Christensen and, to some extent, an aging Harrison Ford, joined those franchises. But no one would put them in the same class as Mr. Norton.
Of course, with all the rumored problems of the production, perhaps he tried to change the film's course and failed. I don't know. Or maybe, unlike Robert Downey Jr., his foray into the comic book world was simply a bad choice in picking scripts.
Let's hope it doesn't happen again.