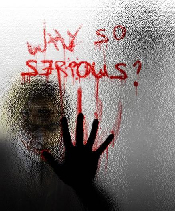 Alright folks…we're getting close.  Judging by that poll a few weeks ago, "The Dark Knight" is far and away the most anticipated film of the summer with the IC readership, so I expect you won't mind my further indulgence in the lead-up to the release.
But there's actually something to talk about now.  The film is junketing this weekend in Los Angeles and I expect there might be an embargo in place, but if reviews and/or opinions start to drift out into cyberspace by this time next week, you'll know they are legit.  There was already a supposed review at this UK outlet, but I can't be sure of the veracity given how vague the copy is.
(I'm still trying to line up a London screening, but dealing with WB's international publicity has been a painfully slow process.  You'd think being such a friend to the franchise MIGHT count for some diligence and/or returned emails.  Oh well…)
In the meantime, here's a clip featuring some of the new score.  It's pretty dark, expectedly taking off from the themes of "Batman Begins," but with a harder, more immediate and eerily agressive edge.  I can't wait to hear the stuff cooked up for the Joker.  Have a listen:
httpv://www.youtube.com/watch?v=ehSAqruwRtQ
(More neat-o YouTube DK discoveries after the jump.)
Also, I came across this TV spot recently that has some nice footage of the Joker, giving us some more clues about his demeanor and characterization.  If Ledger's performance is as outstanding as we've been led to believe, I can't imagine it won't be one hell of a lasting legacy.  Here's the spot:
httpv://www.youtube.com/watch?v=n4BjTDvJ6wQ
Finally, I also stumbled onto this.  An episode of "Gotham Tonight" (hehe) that profiles the life and times of Bruce Wayne.  I love this stuff (in addition to that Maggie Gyllenhaal press conference thing) a lot more than the earlier viral marketing from last year:
httpv://youtube.com/watch?v=EjYNwIHkOG8
"If anyone is for abolishing a speeding ticket, they got my vote."  Nice.