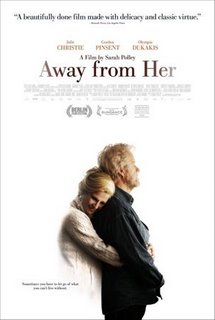 With the recent announcement of Paul Gross's "Passchendaele" as the opening night film at this year's Toronto International Film Festival (and honor traditionally handed to a Canadian endeavor), I thought I'd dedicate some space to the best of Canadian cinema.  But first, a history of sorts.
Growing up in Ontario, Canada, I fell in love with cinema at a very young age. I loved watching those old Universal monster movies on Friday nights, or the Sunday afternoon Big Show of the Week, which was usually yet another showing of "Man of a Thousand Faces" or "Red River." Essentially, I grew up on American films, and I believe American cinema is the most exciting on the globe.
I say this as a Canadian who loves our national cinema, as a critic who has access to Canadian films that are often never released, and as a huge supporter of the Canadian film industry. As long as the government controls what is happening with the money that makes these films, we will never have as strong an industry as we could, and it will be forever difficult to get a film made in this country.
Ask Sarah Polley, a national treasure and world-reknowned actress who struggled to get funds to make "Away from Her," one of the best reviewed films of last year. The reason films get made at all is through government grants and funding. It is a dangerous catch 22.
The first Canadian that mad an impact on me was "Goin' Down the Road," a wonderful picture made in 1970 by director Don Shebib (who attended film school with Francis Coppola). His picture was about Canadians, for Canadians made by Canadians and dealt with plights recognized by Canadians. But of course one did not have to be Canadian to enjoy it. In fact, the film played for more than a year in New York City in 1970 when films lasted longer than two months in theaters. More than the great documentaries from the National Film Board, this film seemed to announce to the world that Canada had a filmmaking community waiting to be unleashed.
Later in the 1970s, "Outrageous!," a bizarre little film about a female impersonator portrayed beautifully by Craig Russel became a major cult film. The very same year, "Rabid," the first of David Cronenberg's horror films emerged. But it was nonetheless always a struggle to make a Canadian film, often dependent on a major American star to ensure some box office potential, leading us to films such as "The Changeling" (a superb ghost story with George C. Scott), "Middle Age Crazy" (Bruce Dern) and "Tribute" (Jack Lemmon).
Then in 1981, a Canadian co-production, "Atlantic City," was nominated for an Academy Award as Best Picture of the year, along with nods for Best Actor and Best Actress. This seemed to be it — the breakthrough we were waiting for. But no. For the last 37 years it has been on and off for Canadian films, a strong year followed by a weak one, years and years between Oscar attention, etc.
Most of the films made in this country are low budget endeavors focusing on human relationships and the human condition. Large budgets seem out of the question, and special effects-laden films simply do not happen. The films in Canada are about people and their problems; most of are them dramas, as we seem incapable of making a ballsy comedy.
To illustrate my point, here's a nice example of the differences between American and Canadian cinema. In the States, when the end of the world is imminent, as it was in "Armageddon" or "Deep Impact," the world is saved in dramatic fashion. In the Canadian production "Last Night," the world ends with a ray of hope, and then…blackness. Telling.
It seems as the Toronto International Film Festival grew, so did our cinema. The brash upstart that was The Festival of Festivals quickly became one of the world's top film exhibition meccas, always showcasing the works of Canadian filmmakers with their Perspective Canada series. To this day, I try and see as many Canadian films at the festival as I can because for many of them, this will be the only chance anyone will have to see them.
Over the last 20 years, Canadian film efforts have been receiving more and more global exposure. Denys Arcan's "The Decline of the American Empire" and "Jesus of Montreal" were both nominated for Oscars for Best Foreign Language Film. His "The Barbarian Invasions" finally winning the award in 2003. Atom Egoyan, meanwhile, was nominated for directing and writing the haunting "The Sweet Hereafter," a film the Los Angeles Times named best film of the year, and which finished second in balloting to "L.A. Confidential" at the New York Film Critics Circle voting.
I remember the pride I felt when Atom received his Oscar notices for a film I had personally named the best of 1997, the first time I had given a Canadian film such a designation.
In the years since, films such as "Away from Her," "The Red Violin," "C.R.A.Z.Y.," "Last Night," "Kissed" and perhaps best of all "Atanarjurat: The Fast Runner" have earned their place on top 10 lists around the world. The latter is a majestic epic set 1,000 years ago in the frozen wilds of the Canadian Arctic. Visualy stunning, the picture is one of those films that plunges its audience into another time and place so completely that we can barely believe the experience. It's an astonishing work of art.
For the sheer fun of it, and in the hopes of bringing some homegrown cinema to the readers, here are my personal choices for the ten best Canadian films of all time.
1. "Atanarjuat: The Fast Runner"
2. "The Sweet Hereafter"
3. "Away from Her"
4. "The Barbarian Invasions"
5. "Goin' Down the Road"
6. "The Grey Fox"
7. "Dead Ringers"
8. "Jesus of Montreal"
9. "C.R.A.Z.Y."
10. "The Apprenticeship of Duddy Kravitz"
Honorable mentions would go to "Mon Oncle Antoine," "Night Zoo," "The Decline of the American Empire," "Eastern Promises," "Last Night," "The Rocket," "Nobody Waved Goodbye," " Lies My Father Told Me" and "Exotica."
Any film you have not seen is a new film, no matter how old. Go out and experience some Canadian cinema!