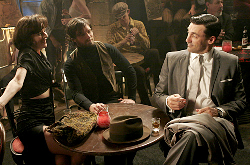 I know we don't really cover TV here at In Contention, but since Matthew Weiner's AMC show "Mad Men" is the greatest piece of screen drama I've seen in any medium this past year, I couldn't resist linking to this mammoth profile of the show, and its creator, in yesterday's New York Times Magazine.
Neatly timed to coincide with the imminent first-season DVD release, and (hopefully) to catch the eye of Emmy voters, Alex Witchel's piece gives fascinating insight into the writerly thinking behind what is certainly the most literate show currently on air. (As a screenwriter, I found the first season to be pretty much a master class in character construction, and the marrying of social and personal narratives.) Weiner, who was also a significant member of the writing team on "The Sopranos," proves a fiercely intelligent interviewee; the following is one of the best descriptions of a writer's raison d'etre I've read in a while:
The payoff for Weiner is getting to combine his love of history and literature with his love for the tradition of live television from the 1950s: Paddy Chayevsky, Rod Serling, "Kraft Television Theater" and "Playhouse 90." "It all goes back to being socially conscious and the blacklist and who those heroes are," he said. "Those were my parents' heroes, and I think that part of the show is me trying to be one of those heroes and part of the show is trying to figure out — this sounds really ineloquent — trying to figure out what is the deal with my parents. Am I them? Because you know you are."
Read the rest here. Sorry for the fanboy tone of this post, but it's a great piece on a landmark work.