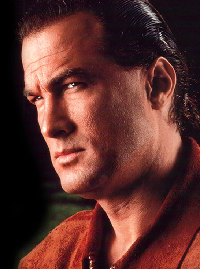 David Gordon Green took a strong dive into a typical post-film school career in 2000, and I've never been afraid to admit that his breed of cinema failed to speak to me on pretty much every level (despite us sharing an alma mater).  I found "George Washington" to be derivative, "All the Real Girls" to be unqualified (though it is my favorite of Green's efforts and is certainly striving for something more) and "Undertow" to be an utter mess.  I've not yet seen "Snow Angels" (though I plan to).
However, "Pineapple Express" has real promise.  Not because I want desperately to see something so anti-Green, but because a filmmaker who has so quickly identified himself within a certain milieu is willing to go there.  I have no doubt Green has a sense of humor (we've never met though we have countless mutual friends), but it says something when a guy is willing to stretch that part of his creativity and offer a different side of his persona to a fan base that, frankly, might be unnerved by it.
With that in mind, I've been meaning to link to this Guardian item since I read it on the tube a week ago.  It's a heart-felt appreciation for action star Steven Seagal and, apparently, is part of an introduction for the upcoming book "Seagalogy."  Since I've got "Pineapple Express" on the brain these last few days (M.I.A. on the iPod, supporting actor updates bouncing around my head, etc.), now's as good a time as any to give it some space:
Who wants to see Jean-Claude Van Damme in Death Warrant or Cyborg when you could witness the brutal human elegance of Seagal's Marked for Death or the astonishing Hard to Kill? His stretch of films that promoted themselves with three dramatic words was for me a trademark and a guarantee that I would be getting my money's worth…

…A strange tide turned as his fame and fortune grew. Perhaps it was the dazzling spotlight of Tinseltown that prompted a shift in his work. He was no longer studying linguistics and martial arts in the Orient and making intimate action movies. Suddenly, I found myself sitting in front of a slew of message films. Beginning with On Deadly Ground, Seagal began to slip environmental themes, spiritual quests and politics into his films. Perhaps he had lost touch with reality and was living in a vacuum. Where was the soft-spoken shitkicker I gravitated toward in my youth?

Fortunately, as would any true movie fanatic, I was able to grow to appreciate his personal crusade. I chose to accept this curveball and take my own enjoyment and expectations to the next level.
Check out the rest here.
As for "Pineapple Express," I'm glad to see James Franco popping up on people's radars lately.  He landed on our charts back in May and two people who've seen the film have told me the performance is sensational.  One thought it was destined to make people sit up and finally take notice of the actor, offering that an Oscar nod was indeed possible.  The other guy is completely in the tank for both the film and the performance but thinks Oscar might be a stretch.
Whatever.  I can't wait.  Finally someone might be able to reel Judd Apatow in a touch.
httpv://youtube.com/watch?v=3ryfqsLt6Y0