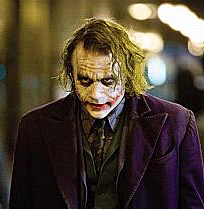 From People magazine, an excerpt from an interview with Michael Caine concerning "The Dark Knight":
Caine, contemplating his co-star's loss, goes so far as to predict Ledger might win an Oscar from beyond the grave for his role as The Joker in The Dark Knight. "He was just so scary. Everyone was worried beforehand, because we knew he was going to be compared with Jack Nicholson's brilliant Joker in the 1989 Batman. He surprised the life out of us all."
Not surprising coming from a connected source and all, though truth be told, all of the awards talk for Ledger really began to heat up nearly seven months ago when Caine began singing the highest praises for the performance.
Also worth noting: An individual who saw the film a week ago didn't hesitate on these matters when she said, quite confidently, "He'll when an Oscar."  Take it with a grain of salt, but just that such comments are making the rounds…
Oooooh, boy.