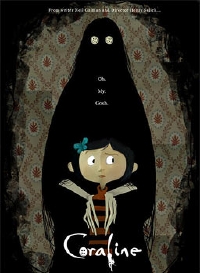 In response to Brian's item this week about Focus Features' animated film slate, I've received notification from the studio that "Coraline," the Neil Gaiman adaptation from Henry Selick (which looks extraordinary, I might add) is set for a February 2009 release.  Obviously, this takes it off the line-up for Oscar contention this year, so update your lists.
Additionally, though Brian notes that he "has heard that 'Coraline' [will be rated] PG-13," Focus would like it known that the film has not yet been rated.  Just so the air is clear on that.
The studio also insists that no release date has been settled yet for Shane Acker's "9."  However, that doesn't jive with another report I received earlier this month which indicated the film would be pushed to next year.  According to the studio, since the film is still "in production," they're not committing to a date.  Brian, meanwhile, was told at the early screening he attended that the flick was "still on for a Christmas 2008"  release.
It's all beside the point for now.  Things shift and slide.  Maybe the studio will find an opening in the holiday season for "9"  and prime it for launch, maybe not.  But none of it takes away from Brian's point, that it is interesting to see the studio trying its hand at being an animation studio, and one dedicated to unconventional fare at that.