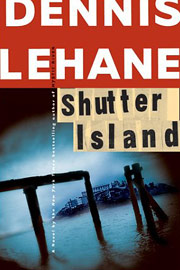 Okay, perhaps not. Maybe more like the new Elmore Leonard. But the quintessential Boston writer is clearly Hollywood's favourite author du jour. After the adaptations of "Mystic River" and "Gone Baby Gone" reignited the careers of Clint Eastwood and Ben Affleck, respectively, it seems the studios are snapping up his titles faster than he can write them.
I hardly need to remind you about a little film coming up next year called "Shutter Island," based on Lehane's 1950's-set suspenser. With Scorsese hoping for lightning to strike twice for him in Beantown, and Leonardo DiCaprio, Mark Ruffalo, Max von Sydow and Michelle Williams just some of the names on board, who isn't excited about that?
With less fanfare, but interesting nonetheless, we also have an upcoming adaptation of Lehane's brilliant short story "Until Gwen," with Josh Olson, the Oscar-nominated writer of "A History of Violence," taking both scripting and directing duties on the project.
Now Variety reports that the latest filmmaker to take on Lehane is Sam Raimi. Columbia has got in early and nabbed the author's yet-to-be-published "The Given Day" for Raimi to direct.
The novel, out in September, sounds like an interesting change in direction for Lehane – and, come to that, for Raimi:
"The Given Day" is set in 1919 Boston, with the city in turmoil as soldiers are returning home from WWI, having brought back an epidemic of Spanish influenza. Attempts to unionize the police department have set the stage for a historic strike and two cops take center stage. "While it deals with many of the same themes as (Lehane's) earlier work, it is also his most ambitious book, tying events of a century ago to the subjects we struggle with today," Raimi said.
Well, I'm intrigued. No word yet on who's doing the screenplay, though I'd love to see Lehane himself doing the honours for a change. I mean, the guy's written for "The Wire," after all.