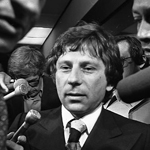 Sasha Stone recently caught up with the doc "Polanski: Wanted and Desired," which I believed bowed on HBO this week (I miss TV). She takes the middle road in assessing the film's Oscar potential as follows:
I found the movie convincing, breathtaking at times and above all, sad. The Academy might like it since it is a sympathetic portrayal of the hell celebrities must live in day in and day out. On the other hand, the Oscar voters who "see every documentary" aren't likely the kind who have a swarm of photogs following them everywhere.
Touché. Check out the rest here.