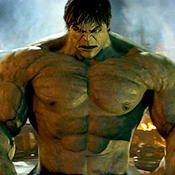 UPDATE (10:05 a.m.): Jeff Wells is going out of his way to find the so-so reactions to the film.  I anticipated them sooner or later. He's also going out of his way to toss me under a bus, but he likes the theatrics so he can have at it.
Wells is spotlighting some shifty sources, though. Mostly net mavens, with an off-the-mark-as-alwys HFPA member thrown in to boot.
EARLIER: Reviews and reactions to the second Marvel Studios project of the year, "The Incredible Hulk," are beginning to pour in. The film premiered in Los Angeles Sunday and had screenings in New York and London last night. The bulk of L.A. critics will be getting looks tonight and tomorrow.
Assessments are generally positive in the early stages. You can read my review here. But this is where the crowd is leaning (with more sure to pile on later this evening):
Mark Monahan (Daily Telegraph):
Besides keeping things moving with a mission, Leterrier reveals a strong eye for an exciting set-piece, as at home with a foot-chase through the Brazilian slums as in the brutal climactic battle between the two uber-beings. (In the latter, the potent sense of at-the-ringside immediacy largely – if not entirely – compensates for the CGI shortcomings).
(More after the jump)
Peter Bart (Variety):
"The Incredible Hulk" is a boffo comic book movie with a Godzilla-meets-Frankenstein climax, a "Beauty and the Beast" subtheme and a shrewdly ironic ending that only Marvel Entertainment could pull off.
Anne Thompson (Variety):
Edward Norton (who does not take a screenwriting credit) manages to make his tortured scientist-on-the-run sympathetic, not just as a man in love with fellow-scientist Liv Tyler, but as the raging-green Hulk, who seems to have learned a few things this time around from Peter Jackson's King Kong.
Orlando Parfitt (IGN, UK):
Leterrier's previous work was able preparation for orchestrating the large-scale mayhem on show, with his kinetic editing of particularly note. One of the biggest issues IGN had with Transformers was the frenetic, headache inducing chip-chop cutting deployed by serial offender Micheal Bay in the large-scale action sequences, which rendered much of the mayhem – and gorgeous special effects- almost visually unintelligible.

Leterrier instead favours lingering – though swiftly moving – tracking shots, intercut with wide pans, that coherently suggest the physicality involved in a 9ft monster smashing army jeeps to pieces with two halves of a car.
Ron Wynn (Nashville City paper):
He wisely dispenses with a lengthy origin revisit, using the opening credit sequences to retell the experiment with gamma radiation that turned scientist Bruce Banner (Edward Norton) into the rampaging monster known as The Hulk. This also establishes the running conflict between scientific endeavor and military pragmatism that's at the heart of the story.