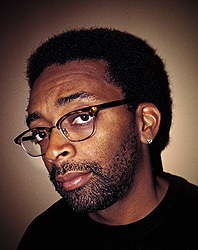 Oh dear, this really is getting ugly. As we all knew he would, Spike Lee has responded to Clint Eastwood's instructions that he "shut his face" about the issue of the supposed sidelining of African-Americans in "Flags of Our Fathers." And, in an interview with ABC News' Sheila Marikar, it seems Lee hasn't picked his words any more tactfully than Eastwood:
First of all, the man is not my father and we're not on a plantation either. He's a great director. He makes his films, I make my films. The thing about it though, I didn't personally attack him. And a comment like 'a guy like that should shut his face' — come on Clint, come on. He sounds like an angry old man right there.

If he wishes, I could assemble African-American men who fought at Iwo Jima and I'd like him to tell these guys that what they did was insignificant and they did not exist. I'm not making this up. I know history. I'm a student of history. And I know the history of Hollywood and its omission of the one million African-American men and women who contributed to World War II. Not everything was John Wayne, baby.
Now I'm actually more sympathetic to Lee's views than some, and I think Eastwood could have phrased his remarks more delicately. But the plantation line takes the argument to a place it really doesn't need to go, and frankly makes me cringe. These are two of the best, most thoughtful filmmakers in the business, and this is the level of discussion they come up with?
Lee closes the interview with a peace offering that strikes me a somewhat half-hearted, not least because he can't resist inserting a political barb there too:
Even though he's trying to have a Dirty Harry flashback, I'm going to take the Obama high road and end it right here. Peace and love.
Not cool. I hope Eastwood has enough smarts to let this go. I suspect he won't. For my part, I hope "Miracle at St Anna" is a terrific enough film to overshadow this squabble.