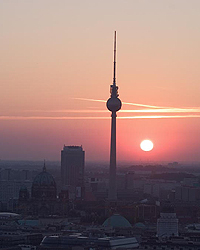 Sorry for the down time on my part. It's been go, go, go since I landed in Berlin Friday. It's back to London tomorrow morning, so I should be back on track.
But to toss out a few random thoughts:
1) Clinton's "I'm finally getting out of the way" speech contained all the right words, but damn if she didn't seem completely incapable of shielding the fact that she was swallowing some tough medicine.
2) Berlin is one of the most agreeable cities I think I've been to in my life, and I can't seem to place my finger on why. Despite the frequent bout of communication breakdown, I could easily see myself living here.
3) I've been watching "Syriana" on my laptop when I can get a moment, a few minutes here, few minutes there. It's the first time I've revisited the film since its 2005 release, and I have to say it is aging well in the face of the changing times. I never felt it to be an out-of-the-park effort, but it remains one of the more ambitious projects of the decade and, in its own way, a solid portrait from a dedicated filmmaker.