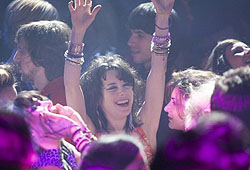 I've been meaning to write about Mike Leigh's "Happy-Go-Lucky" ever since I saw it some three weeks ago, but I haven't found a window until now. I'm off to Berlin on the weekend and I'd really like to get this off my plate before I leave, so amid all the packing, I thought I'd hammer out some brief thoughts.
I'm never really let down by a Leigh film. Even his lesser efforts seem to exist on some simple but probing level that makes argument a fool's errand. More often than not, his work sparks appreciation during the awards season, and he even managed a second Best Director nomination for "Vera Drake" in 2004, which surprised more than a few people.
"All or Nothing" was one of my absolute favorite gems of 2002, yet it was ignored completely, while going back to the epic year in cinema that was 1999, we find perhaps Leigh's most ambitious effort in "Topsy-Turvy." Then, of course, there was "Secrets & Lies," which captured the hearts of many in an Oscar year dominated by independent film.
Leigh's pre-"Secrets & Lies" work is a slightly different breed, but still fundamentally the work of the same artist and, at times, the same vision of the world. And he has come back to it with "Happy-Go-Lucky," the shrewd observation of which Guy made in his April review of the film.
Something feels even more off-the-cuff about "Happy" than Leigh's recent films. There is an even greater sense of spontaneity and improvisation lurking between the frames that can be both exciting and off-putting, but the purpose is served throughout: bringing the audience into the devil may care world of a woman hell-bent on saving the drama for your mama.
Poppy is portrayed quite appropriately by Sally Hawkins, though I certainly sympathize with those who have found the performance a bit grating. But that sense of exaggeration actually works to the film's benefit in a climax that carries a heartbreaking sense of realism. As the wound-up driving instructor Scott, Eddie Marsen — a brilliant character actor through the years — really sparks to life in this scene in a way at odds with the twisted and tortured aspects of his character. A finality of calming settles that will almost feel as if it has left the audience in a lurch. But Leigh is never interested in the tidy.
I want to say a film like "Happy-Go-Lucky" will have a shot at some awards attention when it receives a U.S. release in October, but I wonder. Miramax has already brought the Stephen Frears comedy "Chéri" into the 2008 fold, while "Doubt" is ever-poised as the studio's prime Oscar target (one would presume).  And there are still opportunities for "Blindness," which didn't find much help in Cannes, and "Brideshead Revisited," a re-adaptation more than a few seem to think unnecessary.
Whatever the case, the studio proved last year that it could juggle a fair number of balls in the Oscar season and end up with a pretty good showing for each. Maybe something will land for Hawkins or Leigh or even Marsen, but as honcho Daniel Battsek continues to enjoy the spotlight, I'm sure the wheels are turning — as always — at 42 West, the publicity firm tasked each year with Miramax's Oscar strategy.