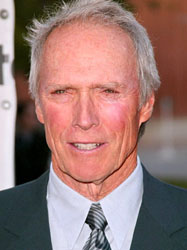 Does Clint Eastwood ever sleep? With "Changeling" and "Gran Torino" set to keep his profile high in 2008, Variety reports that he'll begin shooting his next film, "Human Factor," in South Africa early next year.
The project, based on John Carlin's upcoming book "Playing the Enemy: Nelson Mandela and the Game That Made a Nation," is a study of South Africa's landmark 1995 home-turf victory in the Rugby World Cup; an event that symbolically consolidated a new era of hope for the country after its first democratic election in 1994. Key to the proceedings was recently-elected president Nelson Mandela, whose wholehearted endorsement of the Springbok rugby team went a long way towards breaking down racial barriers in the post-apartheid state.
Morgan Freeman (did you really expect anyone else?) was drafted in to play Mandela some time ago. Now Matt Damon, after a long period of speculation, has finally been confirmed to play Francois Pienaar, the captain of the Springbok team. (The none-too-pretty Pienaar should be flattered with that casting – the two look about as alike as… oh, say, Nelson Mandela and Morgan Freeman. But I digress.)
So far, so Hollywood. But as a South African myself, I must admit to having mixed feelings about the whole enterprise. As someone who remembers exactly where he was on the 24th of June 1995, when the Springboks squeaked past New Zealand 15-12 to claim the trophy, part of me is stunned and a little thrilled that the day that made such an impression on me, as a 12 year-old kid in Johannesburg, would capture the imagination of otherwise disinterested Hollywood execs. And if anyone in Tinseltown can handle the material without letting it slip into gloopy underdog sports-drama treacle, it's probably latter-day Eastwood.
But I'm nervous all the same. The story covers tricky political territory, and I hope Eastwood and scribe Anthony Peckham take care over the subtleties of the social and racial divides that existed in what was (and frankly, still is) a very delicate period in the country's history. Eastwood showed in "Letters From Iwo Jima" that he can handle a narrative with a wholly foreign milieu; the challenge here is to interpret a piece of history that has little American context.
Any film covering Mandela has its work cut out for it too. I tend to be wary of film portrayals of such vastly iconic figures, not least ones that are still alive, as over-reverence can be stultifying to a film's narrative and tone. Mandela and film haven't had a great relationship; so far we've had a pair of tepid TV movies, "Mandela" (1987) and "Mandela and de Klerk" (1997) and last year's painfully earnest "Goodbye Bafana," all of which featured tentative, rather pious portrayals from, repectively, Danny Glover, Sidney Poitier and Dennis Haysbert. None of them really succeeded in teasing out the man from the myth; my fear is that Freeman, no stranger himself to the role of virtuous redeemer, isn't the man to change that. Needless to say, however, the combination of one of world's greatest living heroes and one of America's most esteemed actors began generating Oscar talk the moment it was announced. (I suspect, however, that the role of Pienaar may be the more layered one in the script.)
Maybe I'm just grousing. Maybe I'd just like to see such an essential piece of South African history in the hands of a South African filmmaker for a change. (Come to think of it, Gavin Hood would be a pretty neat fit for the material.) But I can't blame Eastwood and his leading men for getting their hands on it first. The story's an inspiring one. I'm holding thumbs for them to serve it well.