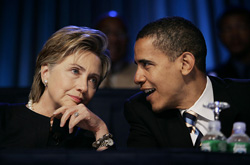 From the Associated Press:
Barack Obama effectively clinched the Democratic presidential nomination Tuesday, becoming the first black candidate to lead a major party into a campaign for the White House. Rival Hillary Rodham Clinton, meanwhile, signaled an interest in joining the ticket as running mate but stopped short of conceding to Obama or dropping out of the race.

Obama arranged a victory celebration at the site of this summer's Republican National Convention — an in-your-face gesture to Sen. John McCain, who will be his opponent in the race to become the nation's 44th president.

The 46-year-old Obama outlasted Clinton in a historic campaign that sparked record turnouts in primary after primary, yet exposed deep racial and gender divisions within the party.
And CNN:
Sen. Hillary Clinton on Tuesday told New York lawmakers she is open to being the running mate of Sen. Barack Obama, her rival for the Democratic presidential nomination, two of the lawmakers told CNN.

Sen. Hillary Clinton trails Obama by 159 delegates and is 201 delegates shy of capturing the nomination.

Rep. Charles Rangel, a senior member of the New York Democratic delegation, also told CNN, "I have reason to believe she is open to the [vice president] slot."

One of the sources added that former President Clinton has been privately pushing for a couple of weeks for his wife to be No. 2 on the ticket.