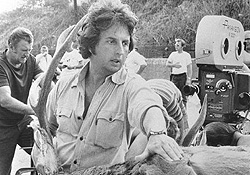 Lots of talk about deserving (and undeserving) directors in the Oscar chatting this week. Let's take it to specifics with one race that stood out to a few commenters.
It seemed in the spring of 1979, following the Oscar ceremony, there was a sense in the industry that if the Academy could have taken back their votes — which saw "The Deer Hunter" and director Michael Cimino winning for Best Picture and Best Director — they would have done so.
The first screenings of "The Deer Hunter" had begun the summer before, when executives saw the film and were stunned by its raw, visceral power, leading to buzz within the business that a masterwork had been born. Execs at United Artists sought out Cimino and inked him to a contract to make a film before before the release of the Vietnam epic, a move they would live to regret.
By the time the film was released in December of 1978, word of mouth was so strong Cimino seemed to be defying anyone to dislike the effort or say anything negative about it. Film critics awarded it best picture and director honors, except those in Los Angeles who gave "Coming Home" highest marks, while Cimino won the directing award. Nominated for nine Oscars, "The Deer Hunter" won five, adding Best Supporting Actor (Christopher Walken), Best Sound Mixing and Best Film Editing to the aforementioned Best Picture and Best Director trophies.
Hal Ashby's haunting "Coming Home" won three, for actors Jane Fonda and Jon Voight, and for the original screenplay, besting Cimino's work on those fronts. Though intially Cimino had claimed "The Deer Hunter" was based on his experiences in Vietnam, some events he had witnessed first hand, it became known that he was not in the military during the war and in fact the only time he had been out of the country was to make the film.
hen the rumors about Robert De Niro's impact on the effort began circulating, in some cases, stating that De Niro had as much, if not more to do with the direction of the film than Cimino. The director's massive ego constantly seemed to get in his way, making back-handed comments about Francis Ford Coppola's much-delayed "Apocalypse Now" and providing the press with plenty of fodder when he proved to be something of a liar.
Indeed, one month after the Academy Awards, the question was raised in the press that if the AMPAS could vote again, would it have swung a different way?
Cimino's story during and after "The Deer Hunter" has been well documented in the seminal book Final Cut, a study of the making of "Heaven's Gate." The book was written by Steven Bach, one of the executives at United Artists who hired Cimino, then fell victim to his charm and "genius," watching helplessly as the director bankrupted the company with a film that cost $44 million (today more than $350 million).
In the book we get a handle on Cimino's inflated ego, a man who was told too many times he was the cinema's next great genius and believed it. He filled his western with self-indulgence. Bach makes clear he and the others were taken in by Cimino, understanding that he read them better than they read him, and though Cimino made a weak film that cost a fortune, they allowed it to happen. What is most unnerving is the blatant lack of respect and consideration Cimino demonstrated to his producers and the executives at United Artists, the men and women footing the bill for his "vision." At one point he sent out a memo stating that one of the UA execs was not to speak to him at all, nor be in his presence at any time!!
But "Heaven's Gate" is neither here nor. The question becomes, did Cimino deserve the Oscar he ultimately won in 1979? Though I concede "The Deer Hunter" is very well powerful and well made, I have never believed it was the best film of its year, nor that Cimino's direction was worthy of the accolades it received. Hal Ashby's somber and deeply moving "Coming Home," for me, was the best film of 1978 and remains one of the great studies of the impact of war.
Jon Voight's performance as a parapalegic remains one the great portrayals in modern film, sweeping the critics awards and capturing a well-deserved Oscar. However, often not given proper credit for his work opposite Voight is the great Bruce Dern, quietly terrifying as Jane Fonda's husband, a hawk who cannot wait to get to Vietnam, and then finds it to be nothing like he had hoped or thought it would be. It was my wish that Dern would win the Oscar for supporting actor for his work, though the Academy went for Walken's spooky vet — a fine piece of acting, but was it the best of the year and was it stronger than Dern's work?
In the end, "The Deer Hunter" is less a film than a series of moments cut together for maximum impact. The opening 90 minutes is breathtaking cinema as we get to know these men and their women and friends as never before, the director plunging us into their world with deep intimacy. However, the sequences in Vietnam are a stretch for even the most dedicated fans. For one, it is difficult to believe that three men from the same town would end up in the same platoon and then end up in the same POW camp, tortured by the Viet Cong and forced to play Russian Roulette while the VC gamble (one of the very scenes Cimino claimed to have seen int he region before it was revealed he was never actually there).
All that said, the sequences are very powerful, the sound of the click on an empty gun barrel amplified just enough to make the audience squirm. And the film's conclusion? With Walken's character now dead, they sit around a table and sing "God Bless America," leaving us wondering is that meant as defiance or loyalty to their country?
I suspect most made their own decisions.
With early comparisons to "The Godfather," "Heaven's Gate" was Cimino's grand folly. It was never as bad as the Americans critics who attacked it claimed, but it certainly was an overlong, self-indulgent mess of a film in which very little happens. The cinematography is spectacular, and the extraordinary rollerskating sequence is breathtaking to look at, but over the course of its more than 4-hour running time very little happens and the actors are not given characters to play, therefore they never find a way to hold our interest.
Pauline Kael wrote that she agreed the film needed trimming, but for the life of her, though she saw what should go, she could not decide what to keep. Now more than 25 years later, the film is something of a curiosity piece in American cinema and certainly worth a look. Cimino's eye for detail is uncanny, but again, so little happens we seem to be staring at postcards.
Cimino made a handful of films after "Heaven's Gate," though he was fired from "Footloose" because the producers grew nervous (and who gets fired from "Footloose?"). The only film of real interest was "Year of the Dragon," with a remarkable Mickey Rourke performance in an overwrought, racist and sexist film.
In recent years, Cimino has been dispelling rumors that he has had, or will soon have, a sex change operation in Europe, leaving us to await the next chapter. Two of the director's most loyal supporters remain Clint Eastwood and Mickey Rourke, though Rourke confesses Cimino is "crazy." But he regardless has one of those undeserved Oscars I've been harking about, so I thought I'd make my case in the wake of this week's earlier discussion.